NAHL alum Sogaard wins NHL debut
April 6, 2022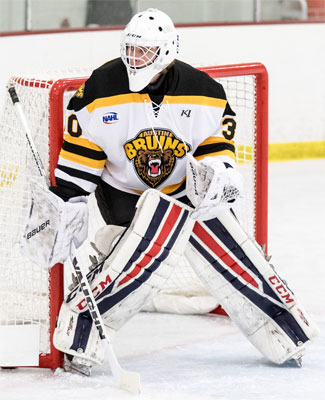 Former NAHL and Austin Bruins goaltender Mads Sogaard made his NHL start this past week for the Ottawa Senators as collected a 5-2 road win Friday night over the Detroit Red Wings at Little Caesars Arena.
In his first NHL start, Mads Sogaard made 27 saves in the Senators (24-37-6) net. Sogaard collected his first NHL victory in his first game and became just the second Danish player to record a victory in league history.
"It's something I will never forget," Sogaard said. "This is what I've worked for my entire life. I noticed [my phone] has quite a lot of notifications on it," Sogaard said. "It was a very exciting day and is something I will never forget."
Sogaard becomes just the 17th player to hail from Denmark to play in the NHL and is the 34th different goalie in franchise history to record a win.
His play in the American Hockey League (AHL) in Belleville has warranted a taste of the NHL. The 21-year-old has gone 16-13-1 with a 2.87 GAA and a .906 save percentage in the AHL this season. In 2020-21, he went a perfect 7-0-0 after he returned from Denmark and overall, has won 23 of his 38 AHL appearances.
Sogaard began his NAHL career with the Bruins playing in 22 games during the 2017-18 season. The 6'7/196 lbs. native of Aalborg, Denmark, went 11-7-0-2 with a 2.54 goals-against average and .909 save percentage.