Wilderness edge Magicians on Thursday, 3-2
March 4, 2022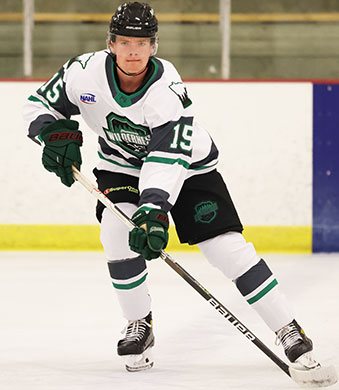 MN Wilderness 3 @ MN Magicians 2 – The Wilderness moved into a tie for the 4th and final playoff spot in the Midwest Division thanks to a 3-2 road win over the Magicians on Thursday.
The Wilderness opened the scoring midway through the 1st period as Cole Gordon scored his first goal of the season. The Magicians answered later in the period with a power play goal from Evan Tanos to make it a 1-1 game after one period.
In the 2nd period, the Wilderness took a 3-1 lead with back-to-back goals just 1:04 apart as Max Neill scored his 15th goal of the season on a power play and then Ethan Wolthers scored his 14th goal of the season to make it 3-1. Late in the period, the Magicians pulled to within a goal as Trevor Kukkonen scored on the power play for his 21st goal of the season, but it would be the final goal of the game as neither team was able to find the back of the net in the 3rd period.
Wilderness goalie Matthew Smith made 27 saves in the win and moved his record with the Wilderness to a perfect 5-0. Josh Langford made 19 saves in the loss.