El Paso set to host Hockeyville after year delay
September 29, 2021
by William Douglas @WDouglasNHL / NHL.com Staff Writer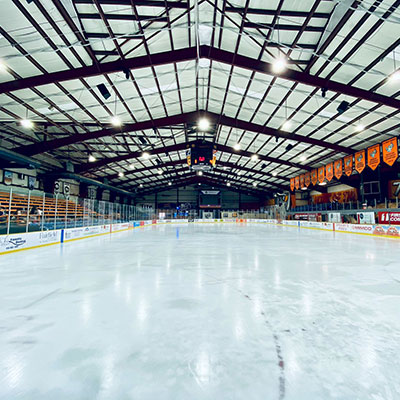 William Douglas has been writing The Color of Hockey blog for the past nine years. Douglas joined NHL.com in March 2019 and writes about people of color in the sport. Today, as part of the NHL's celebration of Hispanic Heritage Month, he profiles the El Paso County Events Center, winner of the Kraft Hockeyville USA 2020 title and the site of a preseason game between the Dallas Stars and Arizona Coyotes on Sunday.
The El Paso County Coliseum Events Center was home to rodeos, equestrian shows and cattle auctions.
This week, the former cow palace-turned-skating rink in El Paso, Texas, is the site for Kraft Hockeyville USA 2020 and a preseason game between the Dallas Stars and Arizona Coyotes on Sunday (9 p.m. ET).
Hundreds of communities entered but El Paso, a largely Hispanic city along the United States-Mexico border in west Texas, earned the title as 2020's most spirited hockey community in America after amassing the most votes online in the Kraft Hockeyville USA 2020 contest.
In addition to the preseason game, the Events Center won $150,000 in rink upgrades and $10,000 in equipment from the NHL Players' Association Goals & Dreams fund.
The preseason game was postponed in 2020 due to concerns surrounding the coronavirus.
Now the waiting is finished and El Paso, the Stars and Coyotes are ready to celebrate and showcase the Kraft Hockeyville designation as a testament to hockey's growth geographically and demographically.
"That's one of the biggest reasons when we transformed [the building] from an equestrian center … we wanted to bring hockey here, to try to build youth hockey," said Cory Herman, a former minor-league forward who owns the El Paso Rhinos NAHL and NA3HL junior hockey teams and founded the El Paso Hockey Association. "With this Hockeyville event coming, I really think that all our programs, from figure skating to learn to skate to learn to play hockey, are going to grow more because of it."
Stars and Coyotes officials said El Paso proves that hockey can succeed in so-called non-traditional markets and appeal to fans of color.
El Paso rests on the Rio Grande across from Ciudad Juarez, Mexico. The city has 678,815 residents, according to 2020 U.S. Census figures, nearly 82 percent of whom are Hispanic.
"This says that Hispanics in Texas like hockey," Stars president and CEO Brad Alberts said of the Hockeyville title. "As more Hispanics get access to the game, both from kids growing up and playing it in our rinks and having access to starting the game, right on up to adults, and getting them out to games, I think that they are going to find that this is a sport they can feel comfortable watching and playing and enjoying."
Coyotes president and CEO Xavier Gutierrez said the game gives the NHL "a great opportunity to really say that it's a community, in terms of Latinos, that is very much top of mind, that we're looking to embrace, celebrate and connect with.
"It's clearly a fast-growing, ever more important community, both a demographic and economic force in America," Gutierrez said.
Gutierrez became the NHL's first Hispanic president and CEO in June 2020
The festivities begin Thursday, with the Stanley Cup making stops at the Events Center; Fort Bliss, the largest installation in the United States Army Forces Command; and at a community celebration in San Jacinto Plaza that former Coyotes players Shane Doan, Taylor Pyatt and David Scatchard are expected to attend.
Two Learn to Play sessions are scheduled at the Events Center on Saturday, with former Stars and Coyotes players on the ice as instructors, including Al Montoya, who was the NHL's first Cuban American player when he debuted with the Phoenix Coyotes during the 2008-09 season.
The goalie went 67-49-24 in 168 NHL games with the Coyotes, New York Islanders, Winnipeg Jets, Florida Panthers, Montreal Canadiens and Edmonton Oilers in a career that ended after the 2017-18 season. He's now the director of community outreach for the Stars.
"Hispanics want to be part of hockey, and what greater message could you send to the hockey community than winning Hockeyville?" Montoya said. "I think it's amazing. Even before accepting the job in Dallas, this was at the top of my list of something I wanted to be a part of."
Corey Heon, general manager of the Rhinos, said he still pinches himself about the Hockeyville designation and what the $150,000 prize has meant to the Events Center.
"I never thought in a million years that we'd be in this situation," Heon said. "We've just always made the best of everything with what we had."
Read the rest of the story here