September 24, 2021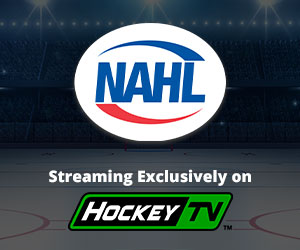 After an incredible and record-breaking NAHL Showcase last weekend in Blaine, MN, the NAHL gets back to the meat of the 2021-22 regular season schedule with the final full weekend of games in September.
There are 12 games on the slate both Friday and Saturday night this weekend as teams continue to evaluate players with the final 23-man roster being due on October 1st.
One of the things the NAHL does better than any other junior league is seeing their players earn an NCAA opportunity while playing and being showcased in the NAHL. During the 2020-21 season, a record number of 395 NAHL players made NCAA commitments, with 293 of those (74%) being a record number of NCAA Division I commitments.
In the Central Division this weekend, fresh off a 3-0-1 record at the Showcase the Austin Bruins have their home opener as they welcome the Minot Minotauros, who come in with a 1-2-1 record and in 4th place. In Mason City, the North Iowa Bulls host their first ever NAHL game as they host the defending Central Division Champion Aberdeen Wings with both teams sitting at 3-1-0 after the NAHL Showcase. The final series has 1-1-0 St. Cloud Norsemen hosting the Bismarck Bobcats, with the Bobcats looking for their first win.
In the East, the Jamestown Rebels return for their first home game in a year and half as they try and continue their momentum from a 3-1-0 Showcase run as they host the New Jersey Titans, who sit at 2-4-0 after six games. The 1st place Maryland Black Bears return home to face the Maine Nordiques, who went 2-2-0 at the Showcase. The final series has Johnstown at Northeast with both teams at the .500 mark. Danbury is idle this weekend.
In the Midwest Division, the three Alaska teams stay in the lower 48 to continue divisional play. The Fairbanks Ice Dogs, who are off a 3-1-0 record at the Showcase, are in Janesville to face the 1-3-0 Jets. The Anchorage Wolverines will try and continue the momentum from a 2-1-1 record at the Showcase with a series against the Minnesota Magicians, who sit at 4-2-0 heading into the weekend. Finally, the Kenai River Brown Bears are in Cloquet to take on the Wilderness with both teams sitting at one win. Springfield and Chippewa are idle.
In the South Division, two 3-1-0 teams tangle for the top spot in the Division as the Wranglers host their inaugural home opener against the El Paso Rhinos. The Corpus Christi IceRays have their first home game in a year and a half as they host the Lone Star Brahmas. Finally, the 1-2-1 Wichita Falls Warriors host the 2-2-0 Odessa Jackalopes in the final series. New Mexico and Shreveport are idle.
Watch all the action on HockeyTV
Download the all new NAHL App today! (iOS - Google Play)
FRI, SEPTEMBER 24
Maine at Maryland - 6:30 PM EDT
Johnstown at Northeast - 7:00 PM EDT
New Jersey at Jamestown - 7:05 PM EDT
Minot at Austin - 7:00 PM CDT
Fairbanks at Janesville - 7:00 PM CDT
Anchorage at MN Magicians - 7:00 PM CDT
Bismarck at St. Cloud - 7:00 PM CDT
El Paso at Amarillo - 7:05 PM CDT
Lone Star at Corpus Christi - 7:05 PM CDT
Odessa at Wichita Falls - 7:05 PM CDT
Kenai River at MN Wilderness - 7:15 PM CDT
Aberdeen at North Iowa - 7:30 PM CDT
SAT, SEPTEMBER 25
Maine at Maryland - 7:00 PM EDT
Johnstown at Northeast - 7:00 PM EDT
New Jersey at Jamestown - 7:05 PM EDT
Minot at Austin - 7:00 PM CDT
Fairbanks at Janesville - 7:00 PM CDT
Anchorage at MN Magicians - 7:00 PM CDT
Bismarck at St. Cloud - 7:00 PM CDT
El Paso at Amarillo - 7:05 PM CDT
Lone Star at Corpus Christi - 7:05 PM CDT
Odessa at Wichita Falls - 7:05 PM CDT
Kenai River at MN Wilderness - 7:15 PM CDT
Aberdeen at North Iowa - 7:30 PM CDT