NAHL alums recognized by Atlantic Hockey
September 22, 2021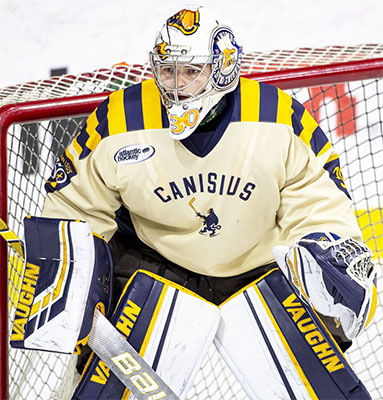 Several former NAHL players were recognized by Atlantic Hockey this week as they posted their pre-season coaches poll, All-Atlantic Hockey Team and Individual Player Recognition.
Atlantic Hockey Preseason Player of the Year: Army senior and former Northeast Generals forward Colin Bilek is the coaches' choice as the Atlantic Hockey Preseason Player of the Year. Bilek earned First Team All-Atlantic Hockey East Pod and second team All-America honors a season ago for the Black Knights. He opens the 2021-22 campaign as the AHA's active leader in power play goals (16), ranks fifth in points (62) and is tied for second in goals (32) among returning players. RIT senior forward Will Calverley and AIC junior forward Chris Theodore also received votes in the balloting.
Bilek competed for the Northeast Generals in the NAHL for the 2016-17 and 2017-18 seasons, where also served as a captain for his second season with the Generals. He scored 90 total points through 117 games in those season and made the 2017-18 All East Team and was also recipient of the East Division Leadership Award.
Atlantic Hockey Preseason Rookie of the Year: Niagara goaltender Jake Sibell is the AHA Preseason Rookie of the Year. The Isanti, Minn., native joins the Purple Eagles from the Aberdeen Wings of the NAHL, where he posted a staggering 43-2-1 record with a 1.19 GAA and .952 save percentage to earn NAHL MVP and Goaltender of the Year honors last season. Sibell's win total, GAA and save percentage are all NAHL single-season records.
The former Aberdeen Wings goalie put an assault on the NAHL record book this past season. The 6'2/206 lbs. netminder set a new NAHL single-season record with 43 wins, posting an incredible 43-2-1 record. He also set NAHL single-season records for goals against average (1.19) and save percentage (.952). His 11 shutouts this season tied the NAHL single-season record. He was named the NAHL Goaltender of the Month four times. During the 2016-17 season, he played in the NAPHL for the Omaha AAA 16U team.
Canisius junior and forward Janesville Jets goalie Jacob Barczewski gets the nod in goal for the Preseason All-Atlantic Hockey Team after posting an AHA-leading .925 save percentage a season ago with a 2.30 GAA and a 7-3-0 overall record for the Golden Griffins. Barczewski played 2016-17 season in the NAHL with Janesville Jets, posting 1.94 goals against average and .929 save percentage in 35 appearances