Jake Sibell Named Dave Peterson Goalie Of The Year
August 16, 2021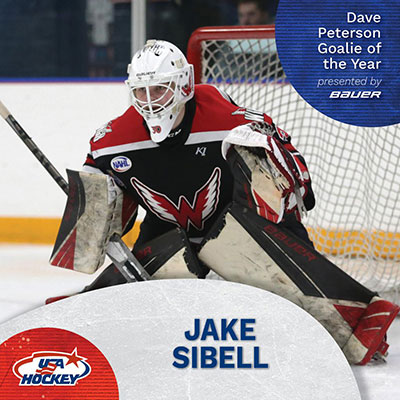 Jake Sibell believed during his years as a backup goalie that his opportunity would come eventually.
The Isanti, Minn., native understood that it was his responsibility to make sure he was ready to make the most of it when that chance came.
The 21-year-old Niagara University commit never could have imagined he was prepared to produce the season he did when that opportunity finally arrived in 2020-21.
In his first junior season as a No. 1 goalie, Sibell showed just how prepared he was with an incredible performance for the Aberdeen Wings throughout the North American Hockey League season. That effort has resulted in his selection as USA Hockey's Dave Peterson Goalie of the Year.
"My reaction when I first heard about it was to just be in awe," Sibell said. "I never thought I'd be able to achieve something like this. It's just a huge honor.
"I saw the names of the past winners. There are some great names in there, obviously, so to be able to be in the USA Hockey record books is going to be something that I cherish for a while."
Sibell had already played his way into the NAHL record book in many categories. He set league records for wins (43), goals-against average (1.19) and save percentage (.952) while tying another with 11 shutouts.
It was all about waiting for his opportunity, he said.
"I have a pretty competitive family and we have a good hockey family here," said Sibell, who went 43-2-1. "I took some lessons from my father and some other goalie coaches that I've been talking to while growing up.
"I tried to take everything in as I grew up. One of the lessons I do remember is just in general, 'your time is going to come, but you have work for it, otherwise when it does come, it's going to slip by.'
"I always had that in the back of my mind and kept working. I knew it was going to work out eventually."
Prior to playing in the NAHL, Sibell played in the NAPHL during the 2016-17 season, where he put up some eye-popping numbers as a 16-year-old.
Continuing the ladder of development, Sibell played 18, 19 and 21 games in his first three years of juniors before playing a league-high 47 in 2020-21, followed by 11 more in the Robertson Cup Playoffs, where the Wings finished as runners-up.
While working on the individual skills that go with goaltending, Sibell also tried to become more aware of his surroundings as a team member.
When he dropped his GAA from 2.65 in 2019-20 and raised his save percentage from .906, the improvement was a reflection of what he was able to accomplish along with the skaters on a team that went 51-4-0-1 and won the Central Division by a whopping 39 points.
"The experience of seeing different plays over and over definitely helped a lot," Sibell said. "But I think more from the goaltending side of it, learning to be a better teammate was important.
"At the beginning of my junior career, I was a quiet kid who just kind of kept to myself. I kind of came out of my shell these last couple years and was able to focus on my teammates instead of just focusing on myself.
"That brought some good results when my teammates were able to trust me and I was able to trust what they were doing."