February 26, 2021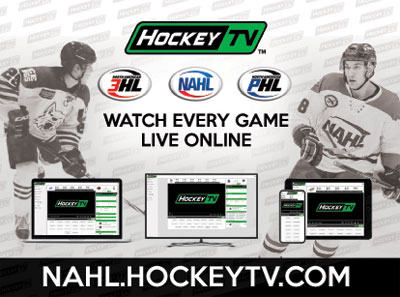 20 games are scheduled this weekend in the NAHL as February comes to a close with less than half of the regular season remaining.
It was another great week for NCAA commitments, as five more players announced their commitments to the next level. That brings bringing the current season total to 259 players (including 248 Division I commitments) who are playing in the league and are committed to playing NCAA hockey in 2020-21.
Teams once again took advantage of some mid-week games as everyone continues to try and get a full schedule of games in for the 2020-21 regular season.
As for this weekend, there are several notable games on the schedule, beginning in the Central Division. The Aberdeen Wings look to continue their dominance and march towards a regular season title as they travel to Austin for two games against the Bruins. The Bismarck Bobcats, who are 8-1-1 in their last 10 and have a firm hold on 2nd place, are in St. Cloud for two games against the Norsemen. The Minot Minotauros are in Cloquet to take on the Wilderness.
The East Division has seen plenty of action already this week and it continues this weekend with Maryland and Danbury finishing their series on Friday. The Jr. Hat Tricks shutout the Black Bears, 2-0 on Thursday. The Northeast Generals are in Maine for three games against the Nordiques, who are just two points out of 1st place heading into the weekend. The 1st place Johnstown Tomahawks put their four-game winning streak on the line in New Jersey against the Titans, who are in 3rd place.
In the Midwest, there is a three-way tie for 1st place and the team with the best of those three records, the Minnesota Magicians, are in Marshall, MN, to take on the Fairbanks Ice Dogs, who have lost three straight games. On Saturday and Sunday, the other two teams in 1st place, the Janesville Jets and Kenai River Brown Bears, will face-off in a two-game series in Janesville.
In the South, the Odessa Jackalopes take to the road and will try and slow down the hottest team in the division, the Wichita Falls Warriors, who have won nine straight games. The other series features the New Mexico Ice Wolves taking their three-game winning streak on the road to face the Amarillo Bulls.
Watch all the action on HockeyTV
Download the all new NAHL App today! (iOS - Google Play)
FRI, FEBRUARY 26
Maine at Northeast - 12:00 PM EST
Maryland at Danbury - 12:30 PM EST
Johnstown at New Jersey - 7:30 PM EST
New Mexico at Amarillo - 7:05 PM CST
Aberdeen at Austin - 7:05 PM CST
Odessa at Wichita Falls - 7:05 PM CST
Bismarck at St. Cloud - 7:10 PM CST
MN Magicians at Fairbanks - 7:30 PM CST
SAT, FEBRUARY 27
Maine at Northeast - 6:00 PM EST
Johnstown at New Jersey - 7:00 PM EST
New Mexico at Amarillo - 7:05 PM CST
Aberdeen at Austin - 7:05 PM CST
Odessa at Wichita Falls - 7:05 PM CST
Bismarck at St. Cloud - 7:10 PM CST
MN Magicians at Fairbanks - 7:30 PM CST
Minot at MN Wilderness - 7:35 PM CST
Janesville at Kenai River - 8:00 PM CST
SUN, FEBRUARY 28
Northeast at Maine - 11:30 AM EST
Minot at MN Wilderness - 1:05 PM CST
Janesville at Kenai River - 5:00 PM CST