Ice Wolves edge Jackalopes on Monday, 5-4
February 23, 2021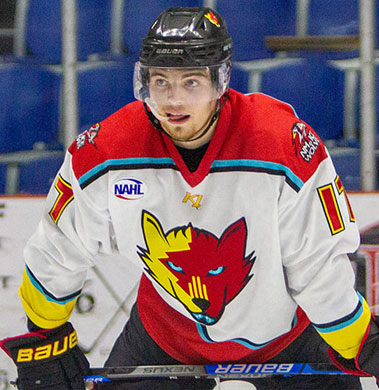 Odessa 4 @ New Mexico 5 – The New Mexico Ice Wolves won their second straight game thanks to a 5-4 win over the visiting Odessa Jackalopes in the lone NAHL game on Monday.
The two clubs traded scores throughout the game with a host of players getting on the scoresheet. New Mexico went ahead 1-0 with a 1st period goal from Jack Bayless. That was answered later in the period with a goal from Odessa's Charles-Edward Tardif, who scored his first career NAHL goal to knot the game at 1-1.
In the 2nd period, the Jackalopes took their first lead of the game as Joey Musa scored his 4th goal of the season to make it 2-1. Later in the period, the Ice Wolves had an answer as Keegan Langefels scored to make it 2-2.
In an active 3rd period, Mew Mexico went back up by a goal early in the period as Cole Hanson scored his 11th goal of the season. Odessa would once again tie the game, this time at 3-3 midway through the period as Fletcher Anderson scored his 7th goal of the season. Later in the period, the Ice Wolves put themselves ahead for good as Spencer Rudrud scored his team-leading 12th goal of the season and Mack Motzko scored the eventual game-winner with just over three minutes remaining in regulation. Ben Doherty scored on the power play for Odessa late in the 3rd period, but New Mexico ended up with the 5-4 win.
Owen Parker made 17 saves in the win, while Connor Hasley made 26 saves in the loss.