Black Bears edge Tomahawks in OT on Monday, 4-3
October 13, 2020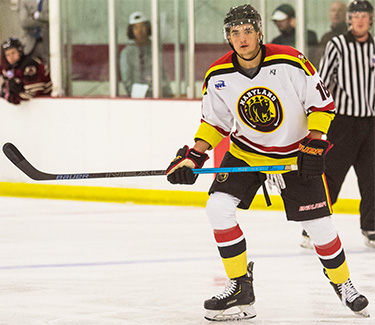 Johnstown 3 @ Maryland 4 (OT) - The Maryland Black Bears trailed most of the game on Monday against East Division rival Johnstown Tomahawks as they looked to bounce back from a tough overtime loss from the night before. They were able to do just that, scoring two goals in the third period and one more in overtime to finish off the 4-3 win to earn a series split against Johnstown.
The Tomahawks struck twice in the first off two deflection goals from forwards Brendan Clark and John Gelatt for a 2-0 lead early in the 1st period.
In the 2nd period, the Black Bears recorded its third shorthanded goal of the series to cut the deficit to 2-1. Forward Hunter McCoy went in on a two-on-none opportunity with Connor Cole and buried a pass by Cole for the goal. Johnstown forward Anthony Mastromonica responded later in the period to make it 3-1 Tomahawks.
Maryland didn't respond until the 3rd period, where Connor Cole buried a wrist shot to cut the lead to 3-2. Then late in the period while short-handed, the Black Bears pulled its goalie for the extra attack, where Hunter McCoy scored once again to make it 3-3. Thomas Jarman finished the comeback off on the power play in overtime on a slap shot goal for the 4-3 win.
Black Bears goalie Michael Morelli made 26 saves in the win, while Tomahawks goalie Sam Evola made 26 saves in the overtime loss.