NAHL announces relocation of Topeka Pilots to Kansas City
February 28, 2020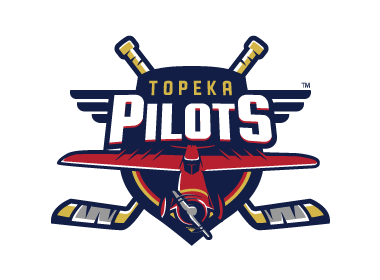 The North American Hockey League (NAHL) has announced that the NAHL Board of Governors has approved the relocation of the Topeka Pilots to the greater Kansas City area, where the team will continue play in the NAHL during the 2020-21 season.
"While we all want to see this team bring home a Robertson Cup this season, the management of the Topeka Pilots must begin to plan for our next hockey season. While we have worked tirelessly to build the organization in Topeka, we have been granted relocation to a facility in the greater Kansas City area for the 2020-21 season and beyond. For the long-term viability and success of the team, the Pilots will be making the move following the completion of the current 2019-20 season," stated Pilots Owner and Governor Lamar Hunt. Jr. "This decision was not easily made. After considering the options that would give our team the best opportunity for growth and success, this is the option we believe is the best."
The Topeka Pilots, who are coached by Simon Watson, are currently in 3rd place in the NAHL's South Division standings with a 31-13-4 record through 48 games. The team has clinched a spot in the 2020 NAHL Robertson Cup Playoffs, which begin April 9th.
Hunt purchased the former Topeka RoadRunners membership back in 2018 and the team was rebranded and renamed the Topeka Pilots. The NAHL has had a team in Topeka since 2007.
"Topeka has enjoyed many years of successful NAHL teams making an impact in the community and on the ice, which includes advancing players to the next level, and that is something that we expect to continue in Kansas City under Lamar Hunt Jr.'s leadership," said NAHL Commissioner Mark Frankenfeld. "The relocation provides the team with the best option to be successful on and off the ice moving forward, and allows them to maintain a similar location in the NAHL's footprint."
"Our hockey operations staff has put together a team that is playoff worthy. We hope that everyone will focus with us on the exciting hockey that is yet to be played this season and support our team in the Robertson Cup Playoffs in April," continued Hunt. "We want to say thank you to all those who have supported the Pilots and hockey in Topeka. For the sake of our players, we ask that our fans please enjoy their achievements made this season and for what is to come in the playoffs."