Maryland defenseman Rydqvist makes NCAA D1 commitment
February 12, 2020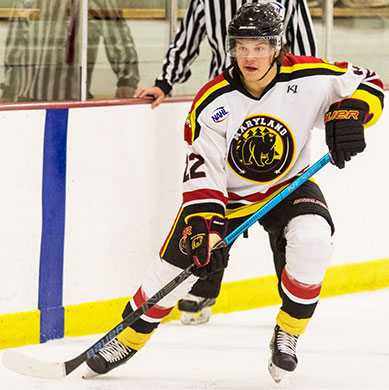 The Maryland Black Bears of the North American Hockey League (NAHL) are pleased to announce that defenseman
Hampus Rydqvist
, who has taken the NAHL by storm in his first season playing in the United States, has committed to play NCAAA Division 1 hockey for the Miami (Ohio) University RedHawks next year.
Miami has a strong, prestigious hockey program that competes in the National Collegiate Hockey Conference, a conference with a long-standing tradition of excellence. The 5'9/191 lbs. native of Gothenburg, Sweden was a fourth-round selection from the 2019 NAHL Draft, an Assistant Captain for the Black Bears, and is one of the most prolific scoring defenseman in the league.
Rydqvist, 20, joins seven other players on the roster who are already committed to competing at the NCAA Division 1 level. Rydqvist has 38 points (10 goals, 28 assists) in 44 games played during the 2019-20 NAHL campaign. Rydqvist will age-out after his first and only season playing Junior Hockey.
"I am extremely excited to be joining the Miami (Ohio) University RedHawks for my collegiate hockey career," said Rydqvist. "Miami is a top-notch school that has all the resources necessary to further develop my game while providing me with a great education. A special thank you to the entire Maryland Black Bears organization, the coaching staff, my family, and everyone responsible for helping me advance to the next level of my hockey career."
"We are extremely proud of Hampus's commitment to Miami University," said Mylymok. "Hampus is an extremely dedicated, and committed athlete. He came to Maryland with a goal of obtaining a Division I scholarship, and he has achieved that. We're excited to watch Hampus continue developing, both on and off the ice, at Miami University. They are getting a heck of a hockey player," said Black Bears head coach Clint Mylymok.
President of the Black Bears, Robyn Remick, stated, "The Maryland Black Bears salute this Swede for the impressive accomplishments Hampus has achieved on the off the ice," said Remick. "He is a tremendous team leader, a great role model for young hockey players, and beloved by Black Bear Nation. We are so proud of him for continuing the franchise's tradition of preparing players for the next level of hockey and the next stage of life. Congrats to the RedHawks for recruiting such an outstanding young man."