Bulls, Generals, Jets complete Sunday sweeps
January 27, 2020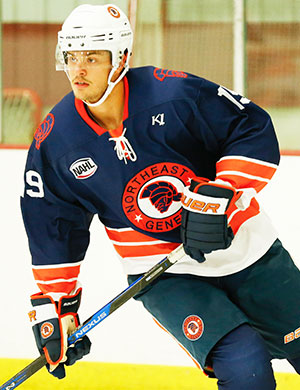 Amarillo 5 @ Odessa 0 - The Amarillo Bulls completed a three-game weekend sweep of the Odessa Jackalopes and secured a spot in the postseason with a 5-0 shutout on Sunday night. The Bulls would tally the opening goal of the game when Ty Black fed the puck through the crease to Nick Stapleton who deflected it into the back of the net for the 1-0 lead. The second period would see the Bulls extend their lead when Aaron White scored his eighth of the year on an early powerplay opportunity. The Bulls would extend the score to 3-0 when Lauri Sertti worked his way into the slot and wristed a shot into the back of the net. Early in the third period, Jordan Venegoni tucked home his team-leading 24th goal of the season. With the 4-0 lead, Kyrre Hellerud would score his fourth of the season to finalize the 5-0 victory. Charlie Glockner would stop 11 of 11 shots he faced, earning his league-leading eighth shutout and 15th victory of the season. Zach Stern made 35 saves in the loss.
WBS Knights 2 @ Northeast 4 – The Generals kept their playoff hopes alive as they completed a three-game weekend home sweep of the Knights thanks to a 4-2 win on Sunday. Ethan Destefani had two goals in the win. The 1st period was even as both teams scored twice with Destefani netting both goals for the Generals and Artur Turansky and Zak Currie scoring for the Knights. In the 2nd period, the Generals took the lead for good with the eventual game-winning goal from Jonathan Young and Liam McCanney added a 3rd period goal. Joey Stanizzi made 33 saves in the win, while Andrew Pichora made 29 saves in the loss.
Janesville 5 @ MN Wilderness 3 – The Jets scored four goals in the 2nd period on their way to a 5-3 win and weekend road sweep of the Wilderness. The Wilderness got on the board first with the only goal of the 1st period from Tyler Watkins. Janesville then took control of the game with four goals in the 15-minute span in the 2nd period, which included tallies from Jake Dunlap, Justin Thompson, Jackson Sabo, and Charlie Schoen. The lead swelled to 5-1 midway through the 3rd period as Isaak Novak scored his 15th goal of the season. Aaron Myers and Bram Scheerer added late goals for the Wilderness. Grant Riley made 31 saves in the win, while Kaleb Johnson made 21 saves in the loss.