Wilderness edge Blizzard on Wednesday to take over 1st place
November 6, 2019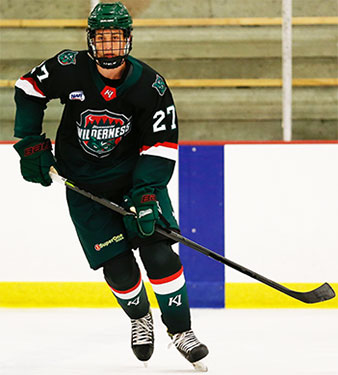 St. Cloud 2 @ MN Wilderness 3 – The Wilderness moved into sole possession of 1st place in the Central Division as they scored two early goals in the 1st period and held off a late Blizzard rally to pick up a 3-2 win in the lone NAHL game on Wednesday.
Just over one minute into the game, Wilderness forward Jake Herter lit the lamp for this fourth goal of the season as he picked up a loose puck in the offensive zone and wristed a shot from the high slot of the glove of Blizzard goalie Sam Metcalf. Seven minutes later, the Wilderness went ahead 2-0 as Bram Scheerer went coast-to-coast to out home a wrist shot from the slot.
Early in the 2nd period, the Wilderness took a 3-0 lead thanks to a power play goal from defenseman Ryan Nelson, who fired a shot through traffic that beat a screened Metcalf.
The Blizzard were able to get on the board later in the period thanks to Bud Winter's third goal of the season.
The Blizzard cut the lead to 3-2 thanks to Ryan Green's team-leading 7th goal of the season midway through the period, however the Blizzard could not find the equalizer the rest of the way as they dropped their fourth straight game.
Wilderness goalie Jonathan Mor made 17 saves in the win, while Metcalf made 36 saves in the loss.