Janesville defenseman Hindman makes NCAA D1 commitment
September 25, 2019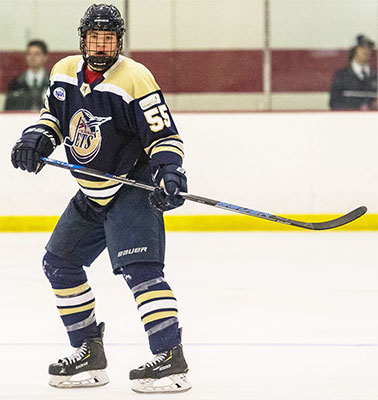 The Janesville Jets, proud members of the North American Hockey League (NAHL), are pleased to announce that defenseman
Grant Hindman
has committed to play NCAA Division I hockey for the Lake Superior State University Lakers of the Western Collegiate Hockey Association (WCHA).
"It's a surreal feeling," said Hindman. "I'm very fortunate to have the ability to play hockey here in Janesville, and I'm thankful for the opportunity to go Division I as a Jet."
Hindman (5'11/185) played in both games of the Jets' season-opening home-and-home series versus the Chippewa Steel, collecting his first NAHL point on a goal from Parker Lindauer. Hindman appeared in two contests at last week's NAHL Showcase: a 4-0 win over the Austin Bruins and the Jets' finale, a 2-1 overtime win over the St. Cloud Blizzard.
The 17-year-old rookie defenseman put his signature physicality on full display in front of a record turnout for scouts at the 17th annual event. Hindman, a native of Lake Orion, Michigan, was drawn most to the Lakers' coaching staff. "I'm a big fan of [head coach] Damon Whitten and [assistant coach] Zach Cisek," Hindman said. "They're both great guys and they really know what they're doing up there."
Just two of the 100+ NCAA commitments in Jets history were Lakers: forward Mitch Hults (Jets 2011; LSSU 2015-17) and defenseman Alec Semandel (Jets 2016-18; LSSU 2018-pres). Semandel and Hindman now represent the only players in franchise history to commit to "Lake State" as a Janesville Jet.
The Lakers play in Sault Ste. Marie, Michigan, the second-most populated town in the state's Upper Peninsula. Hanging at the 4,000-capacity Taffy Abel Arena are banners commemorating the school's three NCAA championships (1988, 1992, 1994), representing an era of dominance that Whitten and his staff are working on recapturing. Last year's squad lost in the WCHA semi-finals to the eventual conference champion Minnesota State Mavericks.
A former Maverick, Jets head coach Corey Leivermann, sees a growing leader in the Laker pipeline's latest addition. "Grant is a very, very tough-nosed, shutdown defenseman who's also very good at skating," said Leivermann. "He plays penalty kill, he's hard in his own zone, and makes great breakout passes. We're gonna develop his offense here in Janesville, but overall [the Lakers are] getting a great human being who'll probably be their captain someday. Already as an '02 he's getting high praise from his teammates here about his leadership, so any Lake State fans can watch this Jets team and get ready to see a future captain there."
The Jets' first in-season Division I commitment last year came in March, when forward Brenden Olson committed to Minnesota State. This year, Leivermann's first full season as head coach, the team is celebrating 162 days earlier.
"You can't really ask for a better start, at least in that regard," said Leivermann. "I think the goals from our ownership were very clearly laid out this season. Division I commitments are high on that list every year. It's great to see a young kid get his deal early. It means we're trending the right way as a program. But now it's time to get the next one."
Hindman, who developed in the Little Caesars midget program, is just four games into his junior hockey career. But even as one of eight 2002-born Jets players, Hindman also knows that every individual success is a product of team success.
"Everyone on this team has Division I potential,, from the '02s to the '99s," Hindman said. "Everyone here is here to work and get that deal. As long as we're working hard and supporting each other, we have a chance to move a lot of guys into college."