Nominations open for The Willie O'Ree Community Hero Award
March 12, 2019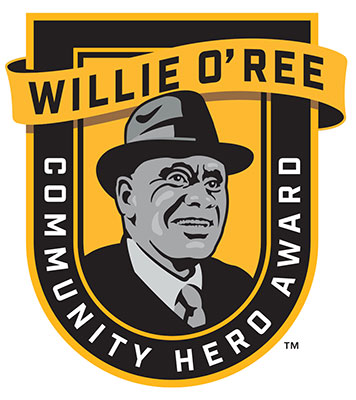 The North American Hockey League (NAHL) and its family of leagues including the NAPHL and NA3HL, are pleased to partner with the National Hockey League (NHL) in its continuing mission of the Declaration of Principles in presenting The Willie O'Ree Community Hero Award.
The Willie O'Ree Community Hero Award recognizes an individual who – through the game of hockey – has positively impacted his or her community, culture or society.
Award recipients will have demonstrated an impressive record of leadership, collaboration or behavior that has transcended the sport, improving lives and helping others reach their potential. As outlined by the Hockey Principles, participation offers families value beyond making an individual a better player or even a better athlete. This award aims to recognize community heroes who seize everyday opportunities to make better people through hockey. Nominees for the award may include, but are not limited to: players, parents, siblings, coaches, referees, administrators, volunteers and rink owners and operators.
Any person living in the United States or Canada can nominate a person in their community by filling out the official online form by March 17, 2019 at 12:59 p.m. ET. Your vote will help determine the recipient of the 2019 Willie O'Ree Community Hero Award. Vote now:
www.nhl.com/OReeAward
#NHLOReeAward
The Willie O'Ree Community Hero Award is named after Willie O'Ree. On January 18, 1958, Willie O'Ree became the first black player to compete in the NHL when he took the ice for the Boston Bruins. O'Ree, who lost sight in his right eye at a young age, went on to play professional hockey for 21 years. His perseverance is unrivaled, and his impact on the game and the lives of young players is still felt today.
For more than two decades, O'Ree has served as the NHL's Diversity Ambassador, traveling across North America to schools and hockey programs to share his story and experiences and to promote messages of inclusion, dedication and confidence. O'Ree has used hockey as a platform to build character and teach life skills, and has used his influence to foster positive values through the sport. These characteristics are described in the Hockey Principles (
thisishockey.org
), and O'Ree is a living example these Principles. The Willie O'Ree Community Hero award recipient will have similarly used hockey as a platform to build character, teach life skills and foster positive values.