Janesville, Top Prospects dman Driscoll makes NCAA DI commitment
March 7, 2019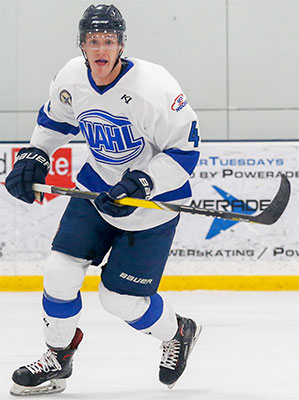 The Janesville Jets, proud members of the North American Hockey League (NAHL), are pleased to announce that Top Prospects defenseman
Sean Driscoll
has committed to play NCAA Division I hockey for the Boston University Terriers of the Hockey East Association.
"This is unreal," said Driscoll. "It's a lot of weight off of my shoulders. I've been stressing out a little bit about other schools and some big decisions, and now that's over. It feels really good to say I'm going to BU."
Driscoll (6'2/194) is finishing his final year of junior hockey, and second with the Jets. The 20-year-old blueliner is from Mequon, Wisconsin, and played all four seasons for Homestead High, captaining his senior year. He played a season with Team Wisconsin.
As a Jets newcomer last year, Driscoll was a regular lineup player, appearing in 48 of 60 games. Towards the end of the season, he moved up to play top pair minutes with current Air Force Falcon Carter Ekberg. Since turning a corner last season, Driscoll has become a model of consistency for the Jets' defense corps.
"That's one thing I've always striven for is to be as consisent as possible," Driscoll said. "Those kinds of players always find their way into the lineup. That's kind of how I've been able to adapt despite bouncing around situation to situation. It got me to where I need to be, and it's paid off now."
This year, Driscoll has played 48 of the Jets' 49 games, and his 24 points are tied with forward Nick Nardella for third in team scoring. His +7 mark trails only Stanislav Dosek (+14) and Tommy Middleton (+15), and he has done a great job staying away from what coaches might call taking dumb or lazy penalties. For as many minutes as head coach Corey Leivermann and assistant coach Lennie Childs give Driscoll, he has only taken 22 penalty minutes this season, 14th on the team, and fewest among players with 39+ games played.
Driscoll was also selected to and played in the 2019 NAHL Top Prospects Tournament just a few short weeks ago for the Midwest Division team.
"Anytime you can return a defenseman of Sean's caliber, that helps you a ton as a team," said Leivermann. "His help alone to be able to get young guys through the process of juniors has been great, but he obviously eats a lot of minutes for us, and he plays in all situations. He flat out helps us win hockey games."
After trading away former alternate captain Matt Doyle and former captain Brenden MacLaren, Leivermann didn't feel the pressure to formally name new leaders or affix new letters on jerseys. Instead, he wanted the group's leaders to naturally emerge and start pulling more weight without any official designation.
"Obviously we still haven't declared an actual captain," Leivermann said. "And we still might not. But Sean has absolutely stepped up in that regard and he's taken the reigns as one of our main leaders. Kudos to him."
The Terriers program is over 100 years old and rivals just about any Division I school in historic success. BU boasts five national titles, 12 conference championships, 22 Frozen Four appearances, and 30 Beanpot championships. Dozens of BU alumni dot NHL rosters (Brady Tkachuk, Charlie McAvoy, Clayton Keller, and Jack Eichel are just a few), and a Terrier has won the Hobey Baker Award three times in the last 20 years.
Albie O'Connell, a '99 alumnus of the Terriers program, is wrapping up his first season as head coach. He replaced David Quinn, current New York Rangers bench boss, who himself filled big shoes from Jack Parker, the team's coach from 1973 to 2013.
"It's obviously an unbelievable program with a ton of success historically," Driscoll said. "I actually went there my sophomore year of high school and saw a game versus Boston College. I just fell in love with the program and everything they stand for historically and academically."
Of more than 70 players advanced to the Division I ranks since 2009, Driscoll is the first Jet to commit to Boston University. The bold red "BU" letters are a pretty important logo to put on scout sheets, Leivermann said.
"It's a pretty awesome day not only for Sean but for the Jets, too," said Leivermann. "It's not really a school we've had major opportunities for in the past, but now maybe this opens some lines of communication for the future. It's a phenomenal program."
Driscoll's announcement comes less than 24 hours since Brenden Olson committed to Minnesota State. The Mequon defenseman is now the fifth of nine Wisconsin natives on the Jets roster with a Division I deal.
"Team Wisconsin is a great program," Driscoll said of the development program. "It helped me develop and grow my love of the game. Then of course being in Janesville bolstered that even more and put me to a level where I could play Division I hockey."
Back-to-back days of announcing Division I commitments "definitely" helps lift team spirits in the face of a seven-game road trip, Driscoll said.
"I mean anytime anybody commits, it's great for the team and the boys rally around it," said the future Terrier. "It's something to strive for, and we do. We all know that individual success comes from team success. It's a total team effort here."
Driscoll becomes the eighth player on the 2018-19 Jets roster to earn his Division I commitment, joining forward Brenden Olson (Minnesota State), defenseman John Prokop (Miami), forward Nicholas Nardella (Michigan Tech), forward Justin Engelkes (Miami), forward Erik Bargholtz (Michigan State), goaltender Cole Brady (Arizona State), and goaltender Garrett Nieto (Union).