NAHL announces monthly player awards for February 2019
March 5, 2019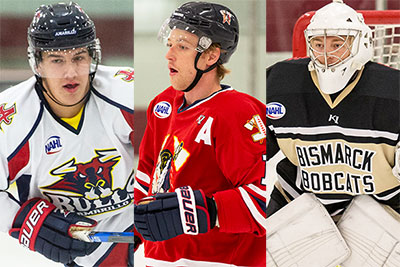 The North American Hockey League (NAHL) has announced its monthly player awards for the month of February. The Bauer Hockey NAHL Forward of the Month is Logan Jenuwine from the Amarillo Bulls. The Bauer Hockey NAHL Defenseman of the Month is Carter Dwyer from the Johnstown Tomahawks. The Vaughn NAHL Goaltender of the Month is John Roberts from the Bismarck Bobcats. Only players who are nominated by their respective teams are considered for the NAHL monthly awards.
Bauer Hockey NAHL Forward of the Month: Logan Jenuwine, Amarillo Bulls
For the second straight month, Amarillo Bulls and NAHL Top Prospects forward Logan Jenuwine, 20, has been named the Forward of the Month. The 6'2/195 lbs. native of Romeo, Michigan, once again led all NAHL players in scoring in February as he recorded 18 points in eight games, which included nine goals and nine assists. Jenuwine had five multi-point games during the month, which included a five-goal game on February 1st. After playing in the 2019 NAHL Top Prospects Tournament for the South Division team, Jenuwine made his commitment to play NCAA Division I hockey to Arizona State on February 27th. He currently leads the NAHL in scoring with 85 points in just 48 games played, which includes 47 goals. His 47 goals this season ranks 5th all-time in NAHL history as he sits just eight goals behind the NAHL single-season record of 55 with 11 games to play. "Logan has continued to be a leader for us in all situations. His offensive productivity is a result of his compete level and desire to help our team succeed. He is playing some of his best hockey right now and helping our team prepare for the Robertson Cup Playoffs," said Bulls head coach Rocky Russo.
"February was pretty memorable. Top Prospects was just an awesome experience and I had a great time. It was a cool experience to play with guys that you battle against all season long and for our division to go 2-0 at the event is something we will remember for a long time. As for the Bulls, we still are focused on trying to win as many games as we can and go into the playoffs playing our best hockey," said Jenuwine. "I think committing to Arizona State was a dream come true and I think it's a perfect fit for me. I had a great visit there, they have a beautiful campus, and they are a team that is already an NCAA title contender just a couple years after establishing an NCAA program, so all that made for an easy decision for me."
Runner-Up: Oliver Benwell, Johnstown Tomahawks
Honorable Mention (alphabetical): Brad Belisle, Aberdeen Wings – Daniel Chladek, Bismarck Bobcats – Tanner Edwards, Fairbanks Ice Dogs – Sacha Guillemain, Wilkes-Barre/Scranton Knights – Matt Hanewall, Janesville Jets – Zach Krajnik, Kenai River Brown Bears – Aurel Naus, Northeast Generals – Matt Stanton, Minnesota Magicians – Jonathan Young, Maryland Black Bears
Bauer Hockey NAHL Defenseman of the Month: Carter Dwyer, Johnstown Tomahawks
Johnstown Tomahawks defenseman Carter Dwyer, 21, had a career month during February. The 6'3/190 lbs. native of Exton, Pennsylvania, put up seven points (2 goals, 5 assists) and a +7 rating in eight games during the month. Dwyer, who is in his last season of playing junior hockey in the NAHL, had at least a point in six of the eight games for the 1st place Tomahawks and also had one multi-point game. For the season, Dwyer has nine points in 23 games played. "It was a challenging month for us schedule wise with a lot of games packed into an already short month of February, but we were able to find some success and Carter was a big part of it not only defensively, but also offensively chipping in with timely goals and assisting on others. After missing a big chunk of the first half, he has been a huge part of our team since his return. Carter is a strong two-way defenseman that is a lead by example type guy who gives everything he has every time he steps on the ice. We will rely heavily on his on ice play and off ice leadership heading down the stretch," said Tomahawks head coach Mike Letiza.
"My confidence has gradually gotten better as this season has gone along and I felt that came to a high point in February. I was injured for a significant portion of the season, so it took some time to get back to where I think I should be," said Dwyer. "I am hopeful that I can continue to work towards an NCAA Division I commitment and also find a school that has good academics. I think we have a very good team this year and one that has been talking about winning a Robertson Cup since the start of the season. After that, I hope to continue to keep hockey a part of my life for as long as I can and make great connections from the places I go."
Runner-Up: Brenden Datema, Amarillo Bulls
Honorable Mention (alphabetical): Nico Appendino, Bismarck Bobcats – Sean Driscoll, Janesville Jets – Markuss Komuls, Kenai River Brown Bears – Andrew Kruse, Minnesota Magicians – Tim Makowski, Aberdeen Wings – Jed Pietila, Austin Bruins – Ryan Rowland, Northeast Generals – John Stampohar, Fairbanks Ice Dogs
Vaughn NAHL Goaltender of the Month: John Roberts, Bismarck Bobcats
February was a big month for the Bismarck Bobcats and goaltender John Roberts. The 20-year-old Northern Michigan University commit posted a 6-1-1 record in eight games during the month, posting a 1.85 goals against average and a .937 save percentage as he stopped 224 of 239 shots in February. The 5'9/175 lbs. native of Lansdale, Pennsylvania, also had two shutouts in February, which included a 29-save win over Austin on February 9th and a 24-save win over Brookings on February 22nd. For the season, Roberts ranked 3rd in the NAHL in wins with 23 and is tied for the league lead in shutouts with five. "John is led by his work ethic and character. Every night he's in the net, he gives his team a chance to win the game. That's why he's a leader on and off the ice for us and will be a very good goaltender at the next level," said Bismarck head coach Layne Sedevie.
"I think our team really played well defensively and tightened things up in February. We were on the outside looking in of the playoff picture and I think we all made a conscious effort to really start focusing on playing better hockey. I think everyone stepped up during the month because we all want this season to continue well into the playoffs," said Roberts. "I think getting the NCAA commitment to Northern Michigan has really allowed me to focus just on hockey. I want to help my team and teammates as much as I can and hopefully see many of them realize their NCAA commitment dreams. I think we are capable of making a run in the playoffs, so we just have to keep playing well and see what happens."
Runner-Up: Mattias Sholl, Fairbanks Ice Dogs
Honorable Mention (alphabetical): Cole Brady, Janesville Jets – Gavin Enright, Kenai River Brown Bears – David Fessenden, Northeast Generals – Jason Grande, Amarillo Bulls – Ethan Haider, Minnesota Magicians – Carter McPhail, Johnstown Tomahawks – Zach Stejskal, Wilkes-Barre/Scranton Knights – Matt Vernon, Aberdeen Wings