Saturday Scores: Jets flying high after sweep
December 16, 2018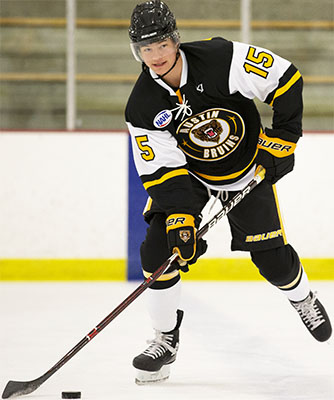 MN Magicians 2 @ Janesville 5 - A crucial sweep for the Janesville Jets has brought them within three points of the division leading Minnesota Magicians as they took Saturday's decision 5-2. Brenden Olson logged a goal and two assists. Brenden MacLaren, Nicholas Nardella, Jack Vincent and Matt Hanewall all found the back of the net as well for Janesville. Cole Brady was superb once again as he made 24 saves. John Keranen and Dawson Klein netted goals for the Magicians while Ethan Haider made 27 saves in the loss.
Jamestown 3 @ Wilkes-Barre/Scranton 1 - The Jamestown Rebels finished off their sweep of the Wilkes-Barre/Scranton Knights as they grab a 3-1 win on Saturday afternoon. Jake Felker tied the game at one late in the second period for Jamestown. Jim Glynn netted the eventual game winner with just under four minutes to play and Alex Frye added an empty net goal. Ryan Keane earned his 13th win of the year as he made 19 saves. Anthony Mastromonica scored his first goal of the season in the loss and Zach Stejskal made 44 saves.
New Jersey 4 @ Johnstown 6 - Oliver Benwell's goal with four minutes remaining on the scoreboard proved to be game winner for the Johnstown Tomahawks as they completed their sweep of the New Jersey Titans. Benwell would finish with three points on the night. Carson Briere and Cameron Hebert also wrapped up their evening with three points each. Colin Price and Bennett Stockdale also found the back of the net for Johnstown. Cooper Lukenda earned the win as he made 23 stops. Gavin Gulash netted a pair of goals while Ryan Naumovski and Kyler Head also scored for New Jersey. Ryan Winter took the loss as he made 16 saves.
Austin 6 @ Bismarck 1 - The Bismarck Bobcats got the first one but the Austin Bruins got the next six as Austin sweeps the Bobcats in Bismarck. Hugh Larkin netted two goals and two assists and Garrett Dahm had a goal and two helpers. Dante Zapata, Dante Sheriff and Lane Krenzen each had a goal and an assist. Kyle McClellan finished the night with 21 stops. Sam Malinksi had the lone Bismarck goal and John Roberts made 30 saves.
Kenai River 1 @ Chippewa 3 - The Steel completed the sweep of the Kenai River Brown Bears with a 3-1 victory on Saturday night. Spencer Oyler scored his first NAHL goal while Camden Thiesing and Jacob Dirks also found the scoresheet for Chippewa. Josh Langford was great again as he allowed just one goal on the weekend and stopped 28 of 29 shots on Saturday. Zach Krajnik scored the lone goal for the Brown Bears, meanwhile Gavin Enright stopped 31 shots.
Brookings 2 @ MN Wilderness 7 - The Minnesota Wilderness delivered some holiday cheer to their fans as they topped the Brookings Blizzard 7-2. Nate Horn led the Wilderness with two goals and two assists. Jack Johnson also potted a pair of goals while Ondrej Trejbal tallied four assists. Aaron Myers also had a goal and two assists while Dylan Johnson and Colin Baird scored for Minnesota. Ryan Fanti denied 22 of 24 Brookings shots. Shane Hathaway and Owen Belisle found the back of the net for the Blizzard and George McBey turned aside 15 shots.
Corpus Christi 7 @ Odessa 5 - The Corpus Christi offense remained on fire as they put up another seven goals on the Odessa Jackalopes in a 7-5 victory. Blake Bennet led all players with a goal and three assists. Jake Stella logged two goals and an assist while Anthony Firrolo scored a goal and had two assists. Jack Smiley tallied a goal and an assist, Jackson Nauss and Mitch Machlitt also lit the lamp for Corpus Christi. Sam Best denied 34 shots to pick up the win in goal. The Jackalopes had five different goal scorers as Jared Christy, Vaclav Zidek, Matt Hutton, James Crossman and Connor Smith all scored for Odessa. Kade Phipps and Alex Camarre combined for 23 saves in the loss.
Fairbanks 5 @ Springfield 3 - Five different Ice Dogs scored goals to salvage a series split with the Springfield Jr. Blues as the Ice Dogs took home a 5-3 win. Jonathan Sorenson, Jack Johnston, Parker Brown, Luke Ciolli and Jax Murray all lit the lamp for Fairbanks. Nate Reid was excellent as he stopped 35 of 38 Springfield shots. Brandon Puricelli notched two goals and an assist while Max Brainin picked up three helpers. Ben Schmidling also scored for Springfield. Jack Williams made 30 saves in the loss.
Amarillo 5 @ Topeka 1 - A four goal second period gave the Amarillo Bulls a 5-1 win over the Topeka Pilots as they completed a weekend sweep. Gabriel Seger and Cooper Fensterstock each had a goal and an assist in the win. Logan Jenuwine, Jason Brancheau and Ryan Lautenbach also tallied goals for Amarillo. Jason Grande wasn't tested often but he only allowed one goal on 18 shots. Cole Thiessen had the only goal for Topeka and McLean Door made 32 saves.
Lone Star 5 @ Shreveport 4 (SO) - Scott Persson and Matt Guerra scored in the shootout to lift the Lone Star Brahmas to a 5-4 win over the Shreveport Mudbugs. Blake Evennou led all skaters with four points, one goal and three assists. Kimball Johnson and Joey Baez logged a goal and an assist for the Brahmas, Trevor Wilhelm also tallied a goal. Seth Eisele made 34 saves in regulation and both shooters he faced in the shootout. Gueorgui Feduolov had a goal and an assist. Ethan Harrison, Tim Khokhlachev and Lukass Sicevs all found the back of the net for the Mudbugs. Leo Chuard made 25 stops for Shreveport.
Maryland 5 @ Northeast 2 - Five unanswered goals from the Maryland Black Bears led them to a 5-2 victory over the Northeast Generals. Connor Pooley and Daylon Mannon each had a goal and an assist. Luke Mountain, Marek Wazny and Freddie Macciocchi also scored for the Black Bears. David Tomeo made 29 saves for Maryland to grab his eighth win of the year. Dylan Schuett and Aurel Naus scored for the Generals and David Fessenden turned aside 30 shots.