Usual suspects lead Wings and IceRays to wins on Thursday
December 14, 2018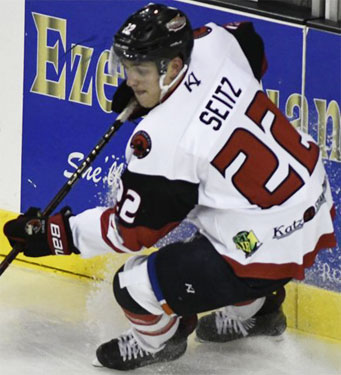 Aberdeen 3 @ Minot 0
– Reigning Central Division Star of the Week Matt Vernon stopped all 33 shots that came his way for his second shutout in his last three starts as the Wings blanked the Minotauros in Minot, 3-0 on Thursday. The win, which was Aberdeen's sixth straight, pushed the Wings lead atop the division to three points. The Wings seized control early in the contest with two goals in the 1st period from Shawn Kennedy and Nic Sicoly to take a 2-0 lead. After a scoreless 2nd period, the Wings added an empty-net goal in the 3rd period as Brad Belisle netted his 13th goal of the season. Wings forward Joe Strada added two assists in the win. Minot goalie Ben Garrity played well in the loss making 34 saves on 36 shots.
Boxscore
Corpus Christi 7 @ Odessa 3
- Reigning NAHL South Division Star of the Week Nicholas Seitz recorded his second hat trick in three games as the Corpus Christi IceRays defeated the Odessa Jackalopes, 7-3, Thursday night at Ector County Coliseum. Seitz and Santeri Hartikainen each picked up four-point outings. The Jackalopes started the night off with two goals in the first period. Zach Heintz scored from the blue line putting the puck in the top-right corner at the 8:30 mark. The Jackalopes scored again on an odd-man rush at 14:44. The second period got off to a very busy start for the IceRays. Seitz got his first goal of the game at the 1:39 mark assisted by Hartikainen. Just 18 seconds later, Tyler Love scored on his own rebound shot assisted by Matthew Headland. The Jackalopes scored their last goal of the game at 4:34 of the period when Jared Christy tipped in a shot from Rex Moe. The IceRays were able to tie the game, 3-3, at the 14:22 mark when Seitz connected again from Hartikainen on the power play. Three minutes into the third period, Mitch Machlitt scored on a feed down the slot from Brian Kramer, giving the IceRays the lead for the first time. Jake Stella (5:31) and Jack Smiley (12:51) improved the lead before Seitz completed the hat trick with just over two minutes remaining. All of Corpus Christi's five consecutive goals to finish the game were scored on the man advantage. IceRays goaltender Sam Best made 32 saves in the win, while Kade Phipps made 42 saves in the loss.
Boxscore