Black Bears, Generals, Mudbugs get wins on Sunday
December 10, 2018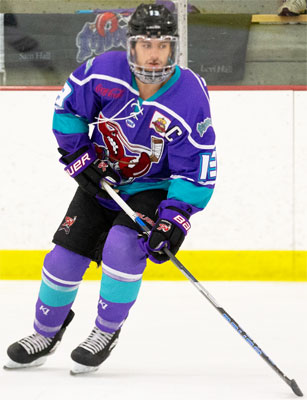 Maryland 4 @ New Jersey 2 – The Black Bears jumped out to an early lead and held on for a 4-2 win over New Jersey, splitting a weekend series with the Titans. The Black Bears jumped ahead 2-0 with a pair of 1st period goals from Bradley Jenion and Marek Wazny. The Titans tried to close the gap in the 2nd period with goals from Spencer Stanley and Gavin Gulash, but a goal from Luke Mountain in the middle of the period and Connor Pooley late in the 3rd period secured the win for Maryland. David Tomeo made 38 saves in the win, while Brandon Perrone made 31 saves in the loss.
Wilkes-Barre/Scranton 3 @ Northeast 6 – The Generals picked up their first win of their three-game set against the Knights thanks to a 6-3 win on Sunday as six different players scored in the win. The Generals led 4-0 after two period thanks to 1st period goals from Clark Kerner and Kyle Gierman and 2nd period goals from Evan Shoemaker and Matt Rutigliano. The Knights tried to make a game of things in the 3rd period with two goals from Jeff Bertrand and another from William Otwell, but the Generals picked up two more goals from Brady Gaudette and Aurel Naus to secure the win. David Fessenden made 30 saves in the win, while Zach Stejskal was saddled with the loss, making 17 saves.
Shreveport 3 @ Topeka 2 (SO) – Leo Chuard made 36 saves and Jay Feiwell had a goal in regulation and the shootout-winner as the Mudbugs snapped their losing skid with a 3-2 win in Topeka, splitting the weekend series. The Pilots led 1-0 after the 1st period thanks to a goal from Valdemar Ahlberg. The Mudbugs took a 2-1 lead in the 2nd period with a pair of goals from CJ McGee and Feiwell. Topeka tied the game early in the 3rd period thanks to the 6th goal of the season from Connor Zilisch. Chuard stopped a penalty shot in OT and then shut the door on three shooters in overtime, while Feiwell scored the lone goal. Pilots goalie McLean Dorr made 33 saves in his Pilots debut.