Tomahawks, Rebels win on Sunday
December 3, 2018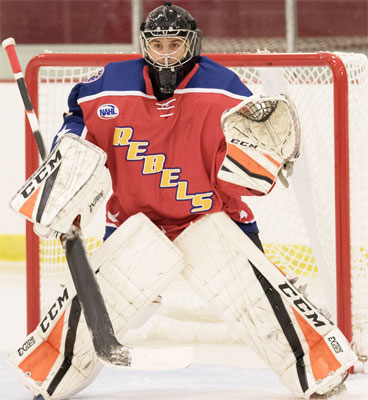 Johnstown 7 @ Northeast 3
- Christian Gorscak and Oliver Benwell earned two-goal games as the Tomahawks defeated the Northeast Generals 7-3 and jumped their winning streak to 17 consecutive games. Johnstown scored first via the power play as Sam Solensky fired a shot from the left faceoff circle past the outstretched glove of Marko Sturma to catapult the Tomahawks in front 1-0. In the second period, the Tomahawks would increase their lead to 2-0 before the second period expired at the 12:33 point when Bennett Stockdale tallied a power play goal. The Generals cut the Tomahawks lead to 2-1 early in the third period when Kyle Gierman roofed a shot past Cooper Lukenda. :18 seconds after the Generals goal, Christian Gorscak squeaked a shot past the right arm of Marko Sturma to give Johnstown a 3-1 lead. Then, four minutes later, Oliver Benwell found the back of the net for his 11th of the season. Stockdale and Austin Friesen assisted on the goal. Gorscak chipped in his second goal of the afternoon at the 8:09 mark of the period. At 12:43, Benwell outmuscled a Generals defenseman and tapped home his 12th of the season and second goal of the game for a 6-1 lead for Johnstown. Northeast responded minutes later with a marker from France native Louis Boudon. The Tomahawks increased their lead to 7-2 after Cam Hebert's 12th goal of the season. The goal came unassisted. Seventeen seconds later, the Generals capitalized on a breakaway as Connor Marshall slipped a puck five-hole on Lukenda for a 7-3 Tomahawks lead. Lukenda made 20 saves in the win and Sturma made 25 saves in the loss.
Boxscore
Jamestown 4 @ New Jersey 0
– The Jamestown Rebels took over sole possession of 2nd place in the East Division as goaltender Ryan Keane stopped all 31 shots that came his way for his first shutout of the season in a 4-0 win in New Jersey on Sunday. The Rebels got goals from four different players in the win, which included 1st period goals from Lewis Crosby and Alex Frye. In the 2nd period, the Rebels went up 3-0 with a power play goal from Colin Schmidt just :26 seconds into the frame. Early in the 3rd period Jake Felker scored his 7th goal of the season for some insurance as the Rebels picked up their 5th win in the last six games. Titans goalie Matt Ladd took the loss, making 30 saves.
Boxscore