November 30, 2018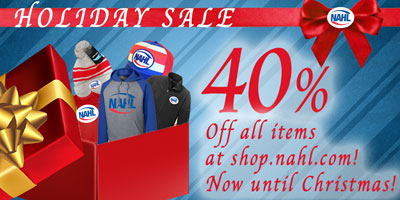 The North American Hockey League (NAHL) gets back into action this weekend as November comes to a close and December takes flight as teams now near the halfway point of the 2018-19 season.
It was a big week for NCAA commitments for NAHL teams as four more players made NCAA Division I commitments. The current commitment total for the 2018-19 season now stands at 120.
Next week, keep an eye out for Player of the Month announcements from the month of November in addition to the pending launch of the NAHL Combines.
In the Central Division this week, the top two teams in the standings will meet for a two-game series in Austin as the 1st place Minot Minotauros to face the 2nd place Bruins, with the two clubs separated by just three points. Just two points back of the Bruins sits the Bismarck Bobcats, who will be on the road this weekend in Brookings to face the Blizzard. The Aberdeen Wings, who sit in 3rd place and just one point behind Austin, will step outside the division this weekend to host the Chippewa Steel. The Minnesota Wilderness, who are just two points out of the 4th and final playoff spot, also travel outside of the division as they visit Janesville.
In the East Division, a 15-game winning streak is on the line for the 1st place Johnstown Tomahawks as they face a tough two-game road test against the Northeast Generals. The Jamestown Rebels and New Jersey Titans are deadlocked in the standings for 2nd place and will face one another in the two-game set in New Jersey. The final series in the East sees the Maryland Black Bears returning to home ice to host the Wilkes-Barre/Scranton Knights.
In the Midwest Division, the Fairbanks Ice Dogs got their weekend off to a good start with their fourth straight win in a 5-1 victory over Kenai River on Thursday night. The Ice Dogs will host the Brown Bears two more times on Friday and Saturday. The Janesville Jets will host the Minnesota Wilderness from the Central Division and the Chippewa Steel will travel to Aberdeen to face the Wings from the Central Division as well. The Springfield Jr. Blues go on the road to face the Topeka Pilots from the South Division. The Minnesota Magicians are idle.
In the South Division, the race for 2nd place highlights the weekend. The Lone Star Brahmas are one of two teams tied for 2nd place and will travel to Odessa to face the Jackalopes. The other team tied for 2nd place, the Topeka Pilots, will host the Midwest Division's Springfield Jr. Blues. The final series features the Shreveport Mudbugs, who are just a point out of 2nd place, hosting the Amarillo Bulls, who have a six point lead atop the division and who have not lost a game in regulation in their past nine outings. Corpus Christi is idle this weekend.
FRI, NOVEMBER 30
Wilkes-Barre/Scranton at Maryland - 7:45 PM EST
Minot at Austin - 7:05 PM CST
Bismarck at Brookings - 7:05 PM CST
MN Wilderness at Janesville - 7:05 PM CST
Springfield at Topeka - 7:05 PM CST
Lone Star at Odessa - 7:11 PM CST
Amarillo at Shreveport - 7:11 PM CST
Chippewa at Aberdeen - 7:15 PM CST
Kenai River at Fairbanks - 7:30 PM AKST
SAT, DECEMBER 1
Lone Star at Odessa - 3:11 PM CST
Johnstown at Northeast - 7:00 PM EST
Jamestown at New Jersey - 7:30 PM EST
Wilkes-Barre/Scranton at Maryland - 7:45 PM EST
Minot at Austin - 7:05 PM CST
Bismarck at Brookings - 7:05 PM CST
MN Wilderness at Janesville - 7:05 PM CST
Springfield at Topeka - 7:05 PM CST
Amarillo at Shreveport - 7:11 PM CST
Chippewa at Aberdeen - 7:15 PM CST
Kenai River at Fairbanks - 7:30 PM AKST
SUN, DECEMBER 2
Johnstown at Northeast - 1:30 PM EST
Jamestown at New Jersey - 3:10 PM EST