NAHL team in Topeka to be renamed, rebranded as the Pilots
June 6, 2018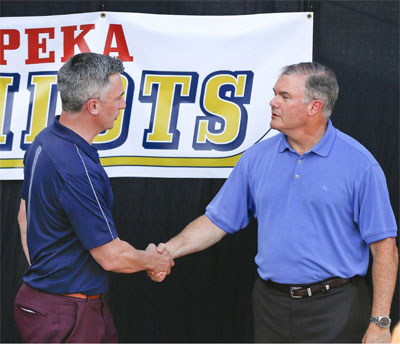 By Tim Bisel, Topeka Capital Journal
Lamar Hunt Jr. is navigating a new course for Topeka hockey, and he now has a new team name to reflect his endeavor.
The Topeka Pilots.
Hunt, who purchased the North American Hockey League's (NAHL) Topeka RoadRunners junior hockey team from Don Stone in April, revealed the team's new name Tuesday evening during a gathering at the southeast entrance of the Kansas Expocentre. Hunt said he and his team researched the history of the capital city and found a name that he believes "really reflects this community."
The estimated crowd of 250 seemed to agree, voicing support with cheers and applause when Hunt announced the Pilots name and his coaches pulled down a black curtain to reveal it.
Hunt and his staff have yet to finalize a team logo, but he said they are working "feverishly" to do so and secure approval from the North American Hockey League.
"I can say this (about the name): The obvious choice might have been the Topeka Capitals, but we felt like that was so common in the marketplace right now," Hunt told The Topeka Capital-Journal after the reveal. "We tried to look at what makes Topeka unique, and this aviation and all that is a little marker in history here that matters.
"I think it also ties into the military, of course. There's a lot of pilots. There's Navy pilots, there's Air Force pilots, there's Army pilots and things like that. I think it's a noble profession, a noble undertaking, but there's a certain level of commitment and fortitude (required) to be a pilot, and I think the same thing about athletes."
Topeka's aviation history dates to 1911, when Albin K. Longren, a self-taught airplane designer and pilot, built and flew an airplane at a farm 7 1/2 miles southeast of Topeka. Longren also took up barnstorming and became known throughout the Midwest as "Birdman" before establishing his own manufacturing company, Longren Aircraft Corp.
Topeka also is home to Philip Billard Municipal Airport, Topeka Regional Airport at Forbes Field, the Kansas Air National Guard and the Combat Air Museum.
While Hunt, a self-proclaimed history buff, sought a name that would resonate and connect with Topekans, he also said the team needed a reboot after several years of waning interest and disappointing results on the ice.
This past year was especially difficult as the RoadRunners went 17-39, a record that not only was last in the NAHL's South Division but also was worst in the entire league.
With Tuesday's celebration, the 'Runners reached the end of their road and the Pilots officially took flight. Hunt said he still is in the process of finalizing a contract with the Expocentre but has an agreement in principle for a one-year lease with a one-year option.
"We felt like we needed a fresh start, a fresh brand, a fresh identity to freshen up the whole scene of hockey here," Hunt said. "Hats off to the past and all that was done here. There's a long history of hockey here and we need to keep that going.
"But I think it was time to move on from that (RoadRunners) name."