Austin forward Doyon makes NCAA commitment
May 17, 2018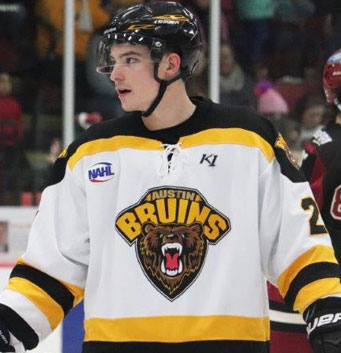 The Austin Bruins of the North American Hockey League (NAHL) are pleased to announce that forward Riley Doyon is the latest member of the Bruins to announce his plans to play college hockey next season. Doyon, 20, has comitted to play NCAA Division III hockey for Aurora University begining in 2018-19 season.
"I really enjoyed my time in Austin," Doyon said. "The team was great and we got treated very well by the organization and the town. Our coaching staff taught me a lot of things about the game, on and off the ice that has helped me take the next step in my journey."
The 6'3/185 lbs. native of Carmel, Indiana, had a unique NAHL career, split nearly evenly between three organizations. Coming out of Belle Tire's T1EHL program, Doyon joined the Johnstown Tomahawks for the 2016-17 season and appeared in 28 games, scoring four goals and adding eight assists.
In September of 2017, Doyon was traded to the Springfield Jr. Blues, where he suited up in 23 contests before being dealt again to the Bruins in January, and playing 26 games in the black and gold, with three goals and six assists. Doyon also suited up in 5 of the Bruins 7 postseason games.
Aurora University is located in Aurora, Illinois, roughly 40 miles west of Chicago. They added an NCAA hockey program in 2014-15 and compete in the NCHA. (National Collegiate Hockey Association) Riley's older brother and fellow NAHL alumnus, Drew Doyon – is the captain of the Spartans. Bruins fans may remember Drew from his days with the Aberdeen Wings.
"I'm excited to start my journey at Aurora and play college hockey with my brother while attending a fantastic school," Riley said.
From the 2017-18 Bruins roster, five have committed to NCAA schools for next season: Travis Kothenbeutel (DI University of Nebraska-Omaha), Alex Schilling (DI Air Force Academy), Justin Brandt (DIII Tufts University), Riley Doyon (DIII Aurora University).