Mudbugs win South Finals to complete Robertson Cup field
May 6, 2018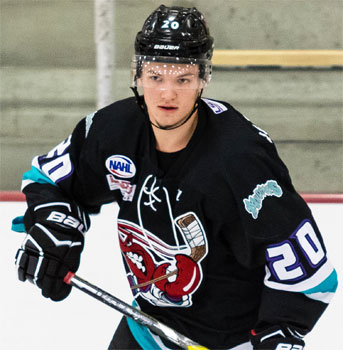 South Division Finals, Game 5: Lone Star 2 @ Shreveport 3 (Shreveport wins series, 3-2) – The Shreveport Mudbugs became the final team to punch their ticket to the 2018 NAHL Robertson Cup Championship as they jumped out to an early lead and then held off a Brahmas comeback to capture a 3-2 win on Sunday night.
The Mudbugs struck first as halfway through the opening period, Brahmas goalie Mitchell Gibson made a couple of saves, but the Mudbugs kept the puck alive, which ultimately ended up on the stick of Roberts Baranovskis, who put home the loose puck for a 1-0 lead. On the ensuing faceoff, Lone Star controlled the puck along the far wall. Kyle Hallbauer sent a pass to defensive partner Connor Stuart who lost an edge falling to the seat of his pants in the high slot. Jack Jaunich picked up the loose puck and rifled it past the glove hand of Gibson just nine seconds after the opening score to make it 2-0.
Lone Star got their first just :26 seconds into the 2nd period on a nice play by Aidan Spellacy. After putting an initial shot on goal that was blocked, Spellacy took control of the puck again cycled behind the net out the far side then sent a laser past Jaxon Castor as he tried to squeeze off the far post to make it 2-1. The Mudbugs had a quick response to go back up by two goals as Brendan VanSweden fed a puck to Baranovskis between the hash marks for a shot off the crossbar and in for his second goal of the game.
Early in the 3rd period, the Brahmas cut the Mudbugs lead to 3-2 as Justin Addamo carried the puck on the backhand against three defenders then cut to center and pushed it past Castor on the forehand. However, despite a period of heavy pressure by the Brahmas, they could not get the equalizer as Castor and the defense shut the door the rest of the way.
Castor made 25 saves in the win, while Gibson made 21 saves in the loss.
With the win, the Mudbugs advance to the 2018 NAHL Robertson Cup Championship, where they will be the #2 seed and face the #3 seed Wilkes-Barre/Scranton Knights in one of two Semi-Final series that begins on Friday, May 11th.