Wings sign Langer to two-year extension
December 13, 2017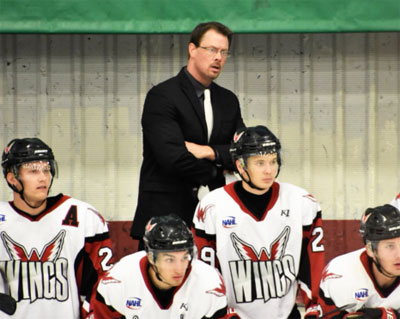 The Aberdeen Wings, proud members of the North American Hockey League (NAHL), have announced that they have signed Head Coach Scott Langer to a two-year contract extension. This will keep him with the Wings through the 2020-21 season.
Langer is in his second season as Head Coach of the Wings. With the Wings, he reached his 450th career win milestone, while leading the Wings to an impressive season. He was awarded the Central Division Coach of the Year, and under his helm, the team hit a league high 16 college commitments. They also had a strong post-season run, winning the Central Division Playoffs, and going to the NAHL Robertson Cup Tournament.
"Scott and his organization have elevated the Wings to the level of excellence we have always looked for in Aberdeen," stated Wing's President Greg Odde. "Putting players in the NCAA and winning games has always been our goal."
Coach Langer is thrilled to be in Aberdeen for another three seasons, "With the support of the Odde family and commitment to being a top organization, we have been able to have not only success, but a lot of fun within the Wings. I am truly looking forward to continuing our quest to bring a championship to Aberdeen, and my family and I are thankful to be here," said Langer.