23 in 23 Series: New Jersey Titans
September 4, 2017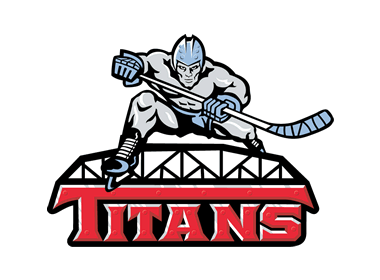 The 23 in 23 series features a look at all 23 teams in the NAHL for the 2017-18 season, with a new team being highlighted daily, leading all the way up until the start of the regular season. 23 in 23 looks into each NAHL team and will include video interviews with 23 coaches in the NAHL, as they provide fans with their expectations and outlook for the season, including taking a look at their strengths as a team and thoughts on the league. It will also take a look back on last season and how each team fared and what they accomplished.
New Jersey Titans
Head Coach: Craig Doremus (2nd year)
2016-17 record: 34-22-4, 72 pts. (3rd in the East Division)
2016-17 leading scorer: Jordan Kaplan, Danny Eruzione (56 points)
2017 Playoffs: Lost in the East Division Finals to Aston, 3 games to 2
2017-18 Division: East
First regular season game: Friday, September 15th @ Wilkes-Barre/Scranton Knights
Home opener: Friday, October 20th vs. Northeast Generals
Typically when team transitions into a new coaching situation, it takes a while to get used to a new style and new way of doing things. However, the New Jersey Titans didn't skip a beat from the 2015-16 season to the 2016-17 season as new head coach Craig Doremus had the team dialed in to a new scheme during the 2016-17 season that allowed the club to post the exact same record as they did in 2015-16.
One thing was perfectly clear as the season started to progress… the Titans loved to score goals, and a lot of them. Doremus had brought in some players that could fly up and down the ice and loved to generate offense. So much so that the Titans were the highest scoring team in the NAHL last season at 3.75 goals for per game. The Titans had an astonishing 15 players with 20+ points or more.
The Titans put themselves in good position for success in the Robertson Cup Playoffs, as they faced Johnstown in the East Semi-Finals. It was a dominant series for the Titans, as they swept the #2 Tomahawks, and they did it with defense, allowing just three goals in the three-game sweep. In the East Finals, they gave the #1-seeded Aston Rebels all they could handle and stormed back from an 0-2 deficit to tie the series at 2-2, only to see the Rebels win in Game 5 to end the Titans season and Robertson Cup dreams.
"We had very few veteran players heading into last season, so for us to advance that far in the playoffs and come within a game of advancing to the Robertson Cup was a good experience," said Doremus. That type of talent didn't go unnoticed by the NCAA scouts, as 10 Titans players from last year's squad were able to secure an NCAA commitment during the season, including leading scorer Jordan Kaplan, who made an NCAA Division I commitment. "The job of junior hockey and the NAHL is to put kids into NCAA program and find the right fit. While winning is important, player development and player exposure take priority," said Doremus.
"Having the success we did last season sets us up perfectly for this season because we are going to have a veteran group of players with a lot of speed and skill. Combine that with coming so close last season, and I think we will have a hungry group of players whose desire for success will be very high. We have to be prepared each day to get better. If you don't get better each day, you will lose in the NAHL because our opponents and their coaches do a great job of preparation," said Doremus.
Heading up the group of veterans this season that the Titans and Doremus will look to is defenseman Ryan Wheeler, who had 34 points in 57 games played last season and was also the NAHL Community Service Award Winner. "Ryan is poised to have a monster year and looked great at camp and really put in work over the summer. He is the type of leader on and off the ice that makes a team successful," said Doremus. Another veteran player that will be back is team captain Danny Weaver. Weaver had his season cut short last year because of injury, but is back for the 2017-18 season along the blueline.
Up front, Nick Boyagian, a Sacred Heart commit will be back after recording 41 points in 58 games played last season. "I think Nick is due for a great season. He put up some great numbers last year and could have had even more points and goals, so I know he is motivated to show he is one of the top players in the league," said Doremus. The rest of the offensive group up front will be full of young and talented players that Doremus hopes can take the Titans to the next level.
"We have to talk about our ability to compete more consistently. There were times last year when we looked like the best team in the league and then there were other times that we were not very good at all. I think having a more veteran team this season will help up get better in that are because the guys have been through a season and the grind. I think that veteran influence on the new players will be something that pushes us over the top and into a new level of success this season," said Doremus.
Next up in the 23 in 23 series: Northeast Generals