Update on IceRays and Hurricane Harvey
August 28, 2017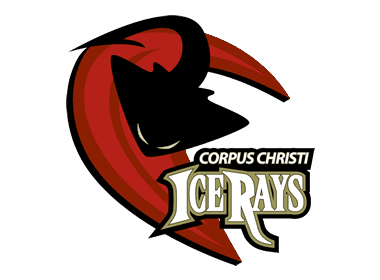 The Corpus Christi IceRays of the North American Hockey League (NAHL) were supposed to begin training camp this past Friday.
Instead, the entire team and staff found themselves fleeing from the Coastal Bend in South Texas as Hurricane Harvey made landfall on Friday night, with the eye of the storm hitting just 15 miles to the Northwest of downtown Corpus Christi and the American Bank Center.
A hurricane stronger than any Corpus Christi has seen in nearly 50 years careened toward the Texas coast on Friday night, winds whipping to Category 4 speeds over the churning gulf waters.
It was thought Harvey would be the big one for the city, a direct hit from a storm that couldn't be avoided, mirroring the same or greater force seen in 1970 with Hurricane Celia.
Although a continued threat of flooding remains on Monday, Harvey ultimately did minimal damage on first passage through Corpus Christi on Friday night. The city emerged Saturday morning with downed trees and power lines, broken and twisted signs, debris in the roadway, widespread power outages and some roofs partially torn.
The full assault of the storm's 100-mph-plus winds instead descended on Rockport and Port Aransas to the north, partially collapsing buildings, launching boats into parking lots, shredding RV parks and leaving at least one person dead.
Head Coach Brad Flynn, some of the staff and the majority of the players fled to the Dallas/Ft. Worth area. On Sunday morning before returning back to Corpus Christi, Flynn gave an update to nahl.com from the NAHL offices.
Here are some of Flynn's remarks:
"We were grateful we got everyone out of town, including the players and billet families. Once we get the all clear, we are getting back down there to assist in the clean up effort."
"One of player's, Garrett Hallford, is from the DFW area in McKinney, Texas, and his family hosted 10 players this past weekend during the evacuation. It is just incredible how people come together. I mean… his parents hosted 10 players for three days. You don't see that type of compassion every day. Our billet coordinator Shelly Brand did an absolutely amazing job to coordinate where players and their billet families were. We had players all over place, so it was a little bit chaotic."
"The support from the league and the team's in the league was incredible. Hockey is such a close community and when times are tough, you stick together. I heard from every team in the South Division wanting to see how they could help. Greg Gatto in Odessa offered to have the team in town for training camp and put us up in a hotel. We may be competitors on the ice, but we know that when situations like this arise, we have each other's back."
"Our immediate thought right now it to get back to town and get together and see how we can help. Our fans are everything to us, so however we can support them and community now is top priority. This will be something for years to come that we will remember more than any hockey practice or game."
"Our equipment manager stayed in town and all initial indications are is that the damage to the arena is minimal, but we don't know for sure because we could not get inside. They made ice earlier in the week, but had to shut everything down as the hurricane approached, so they had to turn off all the compressors and ice making equipment, so they will have to start that process over. However, compared to what other people are going through, that is of very little concern right now."
"The real people who made this happen were our billet families. The players had just arrived or where arriving as this hurricane hit. In some cases, you had billet families taking a player they just met and evacuating him and their family out of harms way. That says something about the type of people we have involved."