23 in 23 Series: Fairbanks Ice Dogs
August 23, 2017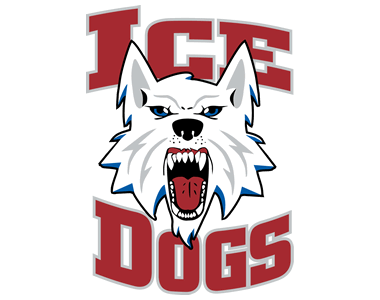 The 23 in 23 series features a look at all 23 teams in the NAHL for the 2017-18 season, with a new team being highlighted daily, leading all the way up until the start of the regular season. 23 in 23 looks into each NAHL team and will include video interviews with 23 coaches in the NAHL, as they provide fans with their expectations and outlook for the season, including taking a look at their strengths as a team and thoughts on the league. It will also take a look back on last season and how each team fared and what they accomplished.
Fairbanks Ice Dogs
Head Coach: Trevor Stewart (7th year)
2016-17 record: 33-24-3, 69 pts. (2nd in the Midwest Division)
2016-17 leading scorer: Hampus Eriksson (55 points)
2017 Playoffs: Lost in the Midwest Division Finals to the Janesville Jets, 3 games to 1
2017-18 Division: Midwest
First regular season game: Wednesday, September 20th vs. Minnesota Magicians
Home opener: Friday, October 20th vs. Minnesota Magicians
A year after winning the Robertson Cup for the third time in six seasons, the Fairbanks Ice Dogs had the unenviable task of becoming the first team since the 2007 and 2008 St. Louis Bandits of trying to repeat as National Champions last season. The Ice Dogs would have to try and do it with one of their youngest and most inexperienced teams in recent memory.
The season began with the Ice Dogs picking up right where they left off as the won their first four games, but tough sledding then ensued in October and November as the club would end up losing 11 straight games to put themselves behind the 8-ball. After some resetting and roster changes, the Ice Dogs got back to their winning ways and by the end of the season, had played well enough to capture 2nd place and the #2 seed heading into the Midwest Division playoffs for another run at a Robertson Cup.
After sweeping the Minnesota Magicians in the Midwest Division Semi-Finals, the Ice Dogs set themselves up with a showdown with the Janesville Jets for the right to represent the Midwest Division at the Robertson Cup. After going down 0-2, the Ice Dogs fought back to take Game 3 and force the series back to Fairbanks, but were defeated in Game 4 to see their season and run at repeating as Robertson Cup Champs come to an end.
"Because of where we are located, there are always some hurdles to get through, particularly as it relates to traveling with a new group of players. However, we benefit from having one of the best fan bases in junior hockey and we have tremendous community support. It is a great place to play and we have been fortunate to have success," said head coach Trevor Stewart. "Ultimately, we enter each season with the same goal and that is to develop our players and get them an NCAA commitment."
The Ice Dogs ended up with 10 players from the 2016-17 team making an NCAA commitment, which included seven NCAA Division I commitments. Stewart said that being a part of a season when the NAHL had over 300 NCAA commitments was something he was proud of. "I've been in the NAHL a while now, first as an assistant and now the past six years as a head coach, and to see the number of commitments like we had last year is incredible. To see where the league has come is remarkable and I expect that number to keep going up."
The Ice Dogs commitments were highlighted by defenseman Benton Maass, who committed to the University of New Hampshire. Maass began and ended the regular season with Fairbanks and played high school hockey in Minnesota in the middle of the season. Maass also heard his named called in the 2017 NHL Draft as the Washington Capitals selected him in the 6th round. It marked the second straight season that the Ice Dogs had seen a player taken in the annual NHL Draft. "It was pretty cool to see Benton get drafted because he is from my hometown in Minnesota," said Stewart. "It is every hockey player's dream to hear their name called and to have that happen two years in a row with Ice Dogs players is a pretty cool thing for our team."
"Recruiting is a year round process for us because of our location. We leave no stone unturned and are always looking for the next group of players and the right kind of player that is going to help our team," said Stewart. "We want to be a playoff team each season, but we want to be better this year than we were last year in terms of more commitments and trying to win a Robertson Cup."
Fairbanks could be back in the Robertson Cup chase in 2017-18 as they return 14 veterans to the team who played in on last year's squad. That type of experience, especially when it comes to the rigors of traveling to and from Fairbanks, Alaska, could prove to be the right ingredients for another run at a fourth Robertson Cup title. "I think a lot of the guys coming back are good players, but time will tell how they gel with some of the new guys. There is some talent there, but we are going to have to be more consistent. I think we have a strong group coming back and if some things fall into place, I think we could make a run for the Cup."
Next up in the 23 in 23 series: Janesville Jets