Amarillo forward Furry makes NCAA DI commitment
August 21, 2017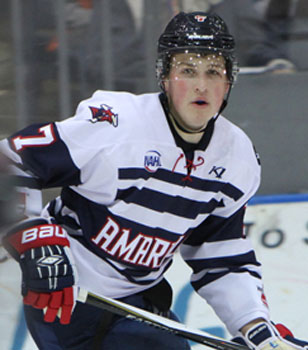 By Denis Puska, Amarillo Bulls
Brendan Furry has certainly come a long way in a short amount of time. From high school hockey in Toledo, Ohio to the Belle Tire U18 program and last season being tendered and suiting up for the Amarillo Bulls.
For Furry the process continues to evolve and has now moved on to another level. The Amarillo Bulls proud members of the North American Hockey League (NAHL) have announced that forward Brendan Furry has announced his NCAA Division I College Commitment to Niagara University for the 2018-19 season.
"It was a long process for sure that really came out of the blue," he said. "I had conversations with Matt Nicholson (former Amarillo Bulls Head Coach and current Assistant Coach at Niagara) and he wanted to get me out to Niagara for a campus visit. I really liked the campus and then I got a chance to visit with Coach Lammers, and he really explained to me what he was going to do with the program.
"I have real faith in the coaching staff and they are going to develop me as a player and as a young man, and hopefully move me on to my goal of playing professional hockey."
Furry collected 10 goals and 18 assists for 28 points in 32 games for Belle Tire U18 of the Tier I Elite Hockey League. While with the Bulls, he had two goals and one assist for three points in seven games.
Amarillo Bulls Head Coach Rocky Russo said the team is very excited for Brendan and his family. "This is a great opportunity for him to continue his education and playing career at the NCAA level," said Russo. "Coach Lammers will do an excellent job at Niagara and we are confident it is a great fit for Brendan."
Furry credited the Amarillo Bulls for kick-starting his hockey career forward. "Amarillo was a huge help to me and I don't think I would be where I am now without coming down here and experiencing the junior hockey lifestyle," he said. "Amarillo contacted me early on in the tendering process. We had the plan and the intensions of coming down and the play was an eye opener. I realized what I needed to do to move on in the game. It was an unreal experience and a difference maker of where I am today."
Brendan Furry is the second Amarillo Bulls player to make his NCAA College intensions to Niagara University. In the spring, Eric Cooley also announced his commitment to Niagara and will report there in September.