Central Report: Chill heats up as holidays approach
December 15, 2010
by Brian McDonough | NAHL.com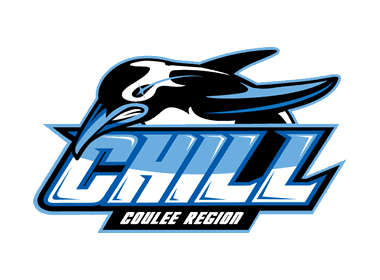 The Coulee Region Chill has played an NAHL-fewest 24 games, but, with a respectable 15-7-2 record, it's made the most of its light schedule.

Last weekend was no exception, as the Chill rolled to two more victories over Alexandria on its opponent's ice.

"It was a big sweep for us," said Chill head coach Garrett Strot, whose team holds a 7-3 mark in its last 10 games. "Especially on the road and keeping pace with (first-place) Bismarck (35 points) and (second-place) Owatonna (34) with games in hand."

A balanced scoring attack keyed the Chill in Alexandria, as all four lines scored at least a goal in each game. A strong work ethic at both ends of the ice, said Strot, didn't hurt, either.

And Connor Gaarder, coming off a strong NAHL Top Prospects Tournament performance in Massachusetts the week prior - he scored two goals and two assists in the three games for tournament champion Team Weight - showed no signs of slowing down. The 19-year-old from Edina, Minn., connected for three goals and an assist in the sweep over the Blizzard.

"He's one of the best two-way players in the league," said Strot. "He's one of our captains and leads by example, and he's also our second-leading scorer (with 24 points, five fewer than forward Zac Frischmon)."

A few first-year players are also starting to make an impact on Coulee Region's lineup, including forward Chris Hughes, who has quietly become one of the team's leading scorers with 18 points (six goals), and defensemen Ben Gislason and Eric Drapluk, both of whom have made marked strides since the start of the season.

"The biggest improvement in Chris is his defensive play," said Strot. "And Ben and Eric are both skilled defensemen and you can see their confidence growing each game."

Coulee Region also has an enviable situation in goal. With Air Force Academy recruit Paul Moberg the team's No. 1 netminder, Aaron Davis, an 18-year-old from Mound, Minn., has made the most of his six appearances as a backup, going 4-1 to compliment a .913 save percentage.

"Aaron has really been playing well for us," said Strot. "He didn't get much playing time the first two months, but has worked hard and is gaining confidence.

"Him coming in has been good for us so we can rest Paul more and not rely on one goalie to carry the load."

Overall, Strot is pleased with his team's progress since September. He knows full well there's plenty of work to be done, but is optimistic with the direction his club is heading.

"The players have really come a long ways since the beginning of the season," he said. "We have to continue to improve our defensive-zone play and turnovers from forced passes, but you can see each game the commitment the players are making to improving in all areas."

The Chill is also receiving significant attention on the college front. With two players with Division I plans already in place - Moberg and defenseman Mike McDonald, another Air Force recruit - Strot expect more attention with more success.

"If we continue to play well, more players are going to start to attract Division I scouts," he said. "Right now, we have another 2-3 receiving interest and, as other players continue to step up their play, that list will grow."

But first things first, and that's closing out the unofficial first half of the season with a few more wins. The Chill heads to Austin for a two-game set on Friday and Saturday before heading to Janesville for a game on Sunday.

"It's important for us to finish on a high note and carry that into the second half," said Strot.
CENTRAL DIVISION NOTEBOOK

ABERDEEN WINGS: Forward Cory Ward continues to wheel a hot stick, as the 17-year-old from Las Vegas scored three more goals and two assists in the Wings' two-game split with Owatonna. Aberdeen's leading scorer now has 18 goals for 33 points through 28 games.

ALEXANDRIA BLIZZARD: After suffering a pair of losses to Coulee Region last weekend, the Blizzard plays a home-and-home series with Aberdeen before heading into the holiday break. Alexandria is 11-11-3 on the season.

AUSTIN BRUINS: The Bruins have acquired defenseman Christian Folin from the Fargo Force of the United States Hockey League. The 19-year-old from Sweden is a Bemidji State University recruit.

BISMARCK BOBCATS: Forward Dan Zawacki stole the show offensively for Bismarck in its two-game sweep over Austin, connecting for two goals and two assists. He was also a plus-6. "Danny's one of the most skilled kids on our team," said head coach Layne Sedevie. "We saw him at our open (tryout) camp in Colorado and knew he'd be an impact player in our league."

OWATONNA EXPRESS: Forward Willie Faust, 19, struck for a goal and assisted on Nick Widing's game-winning marker in the Express' 3-2 triumph over Aberdeen on Saturday. Through 22 games, the Stillwater, Minn., native has two goals for eight points.