Amarillo forward Singerhouse makes NCAA commitment
March 16, 2017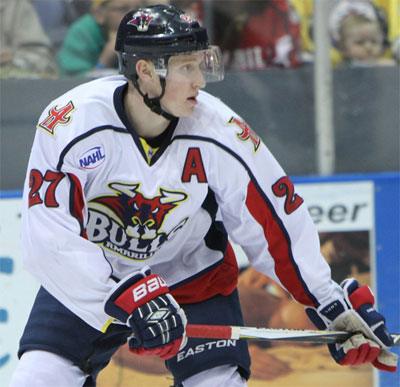 By Denis Puska, Amarillo Bulls
Going to school close to home is something that Amarillo Bulls forward Charlie Singerhouse always had in the back of his mind. That's why it was an easy decision when he decided to announce where he will play NCAA hockey the next four years.
The Amarillo Bulls, proud members of the North American Hockey League (NAHL), announced that Charlie Singerhouse has committed to play NCAA Division III hockey at the University of Wisconsin-River Falls, (DIII-WIAC) for the 2017-2018 season. He joins George Mika (UMASS-Amherst) and Jeff Solow (Merrimack College) from this year's team as making NCAA plans.
Singerhouse is a native of Hudson, Wisconsin located just minutes from the University of Wisconsin-River Falls Campus. He will join former Bulls Alumni Kyle Gattelaro and Mitchell Vanderburg on the Falcons' roster, that also includes several other players who suited up in the North American Hockey League. Singerhouse played in New Jersey two years ago and in each of the last two years has played in Amarillo.
"My house is 10 minutes from the campus," he said. "I originally thought about going out east to play but then decided to go back to my roots and return home to Wisconsin. My parents will be excited because they can attend every game."
Singerhouse was originally tendered by the Bulls out of the NAPHL. Singerhouse had played three years in the NAPHL for the New Jersey Jr. Titans 16U and 18U teams.
In his second season in Amarillo, he has netted 11 goals and 18 assists for 29 points in 51 games. Last year, the 6'1/173 lbs. power forward picked up 13 goals and 12 assists for 25 points in 59 games with the red, gold and blue.
Singerhouse said he has been speaking to the River Falls Coaching Staff for quite a while about becoming part of their program. "I've only heard great things about the program," he said. "They recently got new top-of-the-line athletic facilities so it made the decision easy to go there. My Dad also attended the school so I get to join him on that list. I also visited the campus during both breaks we had this season and felt very comfortable there and they anticipate me playing a big roll on the team."
Charlie Singerhouse's tough-nose, two-way style of hockey, has made him an instant hit with fans in the Texas Panhandle. That gritty style of play is something he grew up doing. "I think I play how I was raised," he said. "My brother played in the same style and would stand up to anybody. My dad was also built in the same mode. They both taught me that's the way I should play."
Singerhouse credited the Bulls Coach Staff Matt Nicholson and Tony Attanucci with helping him attain his goal. "The coaches run it here professional like a college program and I have been able to improve a lot the last two years," he said. "They have given me all of the tools I need to succeed at the next level."
Charlie Singerhouse joins Steven Ipri (Mercyhurst), George Mika (UMASS-Amherst) and Jeff Solow (Merrimack College) as members of the 2016-17 Amarillo Bulls to have NCAA College Commitments.