Watch: NAHL Now Alumni Series with Timmy Moore
March 15, 2017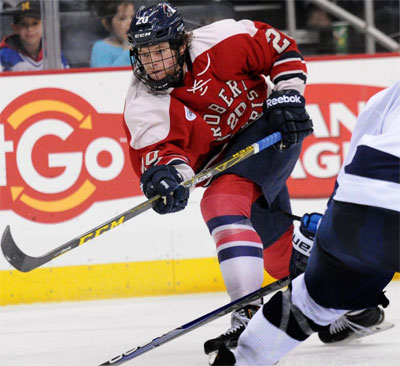 In a continuing video series for the 2016-17 season, the North American Hockey League (NAHL) is please to feature their extensive list of alumni in the NHL, NCAA and beyond in a new series entitled the NAHL Now: Alumni Series.
The NAHL Now: Alumni Series will be a regular video segment that highlights an alumni of the NAHL, who are currently playing in the NHL, NCAA or elsewhere as we try and catch up with their current situation, as well as, take a look back during their time playing in the NAHL.
We also try and get some feedback from coaches who constantly scout the league looking for players and who have made a lasting impact on the league
During a recent trip out East, the NAHL stopped by Robert Morris University to catch up with some of the several alumni on the team. One of those alumni is former NAHL and Amarillo Bulls forward Timmy Moore, who is in his junior season with the Colonials.
"We had really good coaches in the NAHL. The exposure at the events is great, especially at the NAHL Showcase with all the teams in attendance. We got a lot of ice time to work on and improve our skills," -Timmy Moore
Moore played in the NAHL during the 2013-14 season with the Amarillo Bulls. In 38 games played, he recorded 10 points (4 goals, 6 assists).
The native of Grosse Pointe Park, Michigan, had a career season in his junior campaign with the Colonials. in 36 games this season, Moore has a career-high 25 points, included 15 goals. Robert Morris is in the Atlantic Hockey Semi-Finals this weekend against Canisius.