NAHL announces Bauer Divisional Stars of the Week
March 13, 2017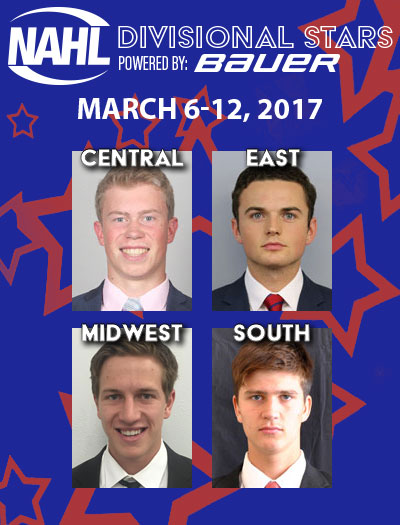 The North American Hockey League (NAHL) today announced the Divisional Stars of the Week presented by Bauer Hockey for the week ending March 12, 2017. The Bauer Hockey Divisional Stars of the Week is a weekly feature during the 2016-17 regular season that honors the top performing players in each of the four NAHL divisions. Only players that are nominated by their respective teams are considered for the Divisional Players of the Week award.
Central Division Star of the Week: Andy Carroll, defenseman, Aberdeen Wings
Aberdeen Wings defenseman Andy Carroll, 20, had a good weekend as the Wings picked up a weekend road split in Cloquet against the Wilderness to stay in a playoff spot in the Central Division. The 5'10/172 lbs. native of Northfield, Minnesota, had four points and was a +4 in the weekend games. On Friday, Carroll was a +1 in a close 2-1 loss and on Saturday, Carroll had a goal and three assists in a 7-1 win. For the season, Carroll, who played for the Central Division team at the 2017 NAHL Top Prospects Tournament, leads all Wings defensemen in scoring this season with 35 points in 47 games played. "Andy has improved everyday since landing in Aberdeen. He has grown to be a critical part of our team. Andy's passion for the game is contagious and his elite ability will allow him to do great things in the future," said Wings head coach Scott Langer.
2nd Star: Zach Kennedy, F, Bismarck Bobcats
Honorable Mention (alphabetical): Tristan Ashbrook, F, Bismarck Bobcats – Luke Dow, F, Minnesota Wilderness – Alexander Esbjors, F, Minnesota Wilderness – Kevin Fitzgerald, F, Aberdeen Wings – Austin Park, G, Minot Minotauros – Reid Stefanson, F, Minot Minotauros
East Division Star of the Week: Grant Valentine, goaltender, Wilkes-Barre/Scranton Knights
Wilkes-Barre/Scranton Knights goalie Grant Valentine, 20, led his team to a perfect 3-0 week this past week as the native of Medina, Ohio, faced a total of 88 shots in three games and made 83 saves. On Friday, Valentine (5'11/175) had 25 saves through regulation and overtime, then stopped 3 of 4 shooters in a 3-2 shootout win over the 1st place Aston Rebels. On Saturday, Valentine stopped all 29 shots that came his way for his 3rd shutout of the season in a 1-0 win over the Northeast Generals. On Sunday, he made 29 saves in a 7-3 win, which completed the weekend sweep of the Generals. "When your goalie in playing well, your whole team plays with more confidence. That is going to be very important heading into the playoffs. With the way he is playing right now, Grant is making us a better team and one that will be able to contend in the playoffs," said Knights head coach Tom Kowal.
2nd Star: Mitchell Hale, F, Johnstown Tomahawks
Honorable Mention (alphabetical): Markuss Komuls, D, Wilkes-Barre/Scranton Knights
Midwest Division Star of the Week: Caleb Schroer, forward, Coulee Region Chill
Coulee Region Chill leading scorer Caleb Schroer, 20, has been on a tear for the Chill who are making a serious playoff push. This past weekend, the 5'9/168 lbs. native of Wisconsin Rapids, Wisconsin, helped the Chill to a weekend road sweep of the Kenai River Brown Bears. Schroer had 7 points (2 goals, 5 assists) in the two wins and was a +7 for the weekend. On Friday, Schroer had a goal and three assists in a 10-1 win and on Saturday, he scored the game-winning goal and added two more assists in a 6-2 win. Schroer's 52 points leads the Chill in scoring this season. "We are excited that Caleb is getting recognized this week. He has been one of our most consistent contributors the second half of the season. He has been playing very good hockey and for NCAA Division I schools looking to make a late addition, Caleb should be on their radar," said Chill head coach Ryan Egan.
2nd Star: Jake Barczewski, G, Janesville Jets
Honorable Mention (alphabetical): Aiden Beck, F, Springfield Jr. Blues – Cayden Cahill, F, Fairbanks Ice Dogs – Chris Dodero, F, Janesville Jets – Mike Leach, D, Springfield Jr. Blues – Isaac Theisen, F, Coulee Region Chill – Erkka Vanska, F, Fairbanks Ice Dogs
South Division Star of the Week: Tomas Vomacka, goaltender, Corpus Christi IceRays
The Corpus Christi IceRays kept pace in the South Division for a playoff spot by picking up three of a possible six points this weekend in a roadtrip to Wichita Falls. Top Prospects goaltender Tomas Vomacka, 17, stood tall again for his team as he appeared in all three games and allowed just three goals on 74 shots, making 71 saves. On Thursday, the 6'3/172 lbs. native of Trutnov, Czech Republic, made 31 saves in a 3-2 shootout loss. The next night, he came in relief just over halfway through the game and stopped all 7 shots he saw in a 4-3 loss. On Saturday, Vomacka made 36 saves in a 2-1 win. "Tomas was played very well over a very tough road trip in Wichita Falls. Tomas is an extremely well liked guy in our room and has done a tremendous job transitioning from Europe to North American hockey. This week like many others, Tomas did a good job of making the saves he should and making a few he shouldn't have to which gives us a chance to win each night," said IceRays head coach Brad Flynn.
2nd Star: John Roberts, G, Shreveport Mudbugs
Honorable Mention (alphabetical): Croix Evingson, D, Shreveport Mudbugs – Drake Glover, F, Lone Star Brahmas – Matt Hanewall, F, Wichita Falls Wildcats – Brendan Miller, F, Corpus Christi IceRays – Max Prawdzik, G, Lone Star Brahmas – Jonathan Waring, D, Wichita Falls Wildcats