Wichita Falls goalie Dempsey makes NCAA DI commitment
March 7, 2017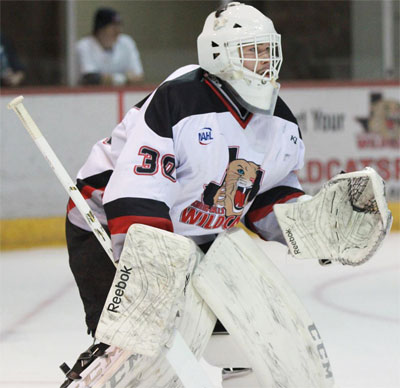 By Alex von Keudell, Wichita Falls Wildcats
The Wichita Falls Wildcats, proud members of the North American Hockey League (NAHL), are pleased to announce that goaltender Jared Dempsey has committed to play NCAA Division I Hockey at the United States Military Academy (Army) of the Atlantic Hockey Conference. He will begin his college hockey career at the start of the 2017-2018 season.
"The Wildcats have been instrumental in moving me on to the next level," Dempsey said. "I'm extremely thankful for the opportunity Coach Nelson has provided for me to thrive. Army seems like a great place to be successful both on the ice and in the classroom, which is exactly what I was looking for in an institution."
With an acceptance rate of just 10%, West Point is a highly selective academy which boasts an abundance of prominent alumni. Savvy and studious, Dempsey was expected to commit to an Ivy-League-level school. Defenseman Nash Worden (2011-12) and forward Garrett Van Wyhe (2015-16) are the only other Wildcats in franchise history to commit to Army. Worden is a sophomore, while Van Wyhe will go in as a freshman in the fall. Dempsey will join Worden, Van Wyhe and the Black Knights in West Point, New York this August.
Dempsey was one of the latest additions to the Wildcats this season. Before he arrived, the goaltending situation was extremely questionable. Evan Moyse held down the fort as the Wildcats went through a number of backup net-minders before finding the right fit in Dempsey. Since his arrival in early November, the Detroit native has started in 18 games for the Wildcats. He's won 12 of them.
"We're very excited for Jared and the opportunity he has in front of him," Wildcats Head Coach Josh Nelson said. "Army seems to be a great fit for Jared's athletic endeavors, as well as his academics. Jared's been a backbone for our team since he's been with us, and Army will be thrilled with the student-athlete they'll have joining their campus."
Playing in a very competitive South division notorious for producing high-end goaltenders, Dempsey boasts the fourth highest Save Percentage of the fourteen eligible net-minders in the South. His .919 SV% and his 2.84 Goals Against Average have been critical to the Wildcats' 12-5-1 record with him in net this season. As the position of goaltender becomes increasingly important as the season goes on, he and Moyse will be counted upon greatly as the Cats prepare for the playoffs.