Austin forward Misiak makes NCAA DI commitment
February 23, 2017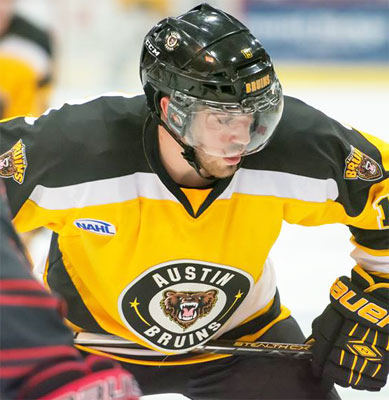 By Michael Keeley, Austin Bruins
The Austin Bruins, proud members of the North American Hockey League (NAHL) are proud to announce that forward Justin Misiak has committed to play NCAA Division I hockey at Michigan Tech university (WCHA) for the 2017-18 season.
"It's exciting to be committed," Misiak said. "It's a dream come true. All the hard work has finally paid off."
Misiak, 20, who is a native of St. Clair Shores, Michigan, is currently the NAHL's 2nd leading scorer, with 48 points. He leads the Bruins in points, goals, and assists in this, his second season in Austin.
After a serviceable campaign 2015-16 that saw him rank fourth on the team in scoring, Misiak has taken his game to another level this season, making a name for himself as one of the fastest and most agile skaters in the league. He registered his first NAHL hat-trick earlier this month on Paint the Rink Pink night – a 6-2 win over the Coulee Region Chill.
Misiak was originally drafted by the Amarillo Bulls in the 3rd round (71st overall) of the 2014 NAHL Entry Draft. After two years with the Little Caesar's U18 program, he appeared in three games with the Bulls in the 2014-15 season. He began his breakout with the Bruins a year later.
Misiak scored the first 3-on-3 overtime goal in Bruins history on January 8th, 2016 – the game winner in a 3-2 home victory over Aberdeen. He would go on to represent the Bruins on the Central Division Team at the 2016 NAHL Top Prospects Tournament alongside teammates Jade Miller, Paul O'Connor, and Kristofer Carlson. He was named to the Central Division squad again in 2017.
The Michigan Tech Huskies play in the Western Collegiate Hockey Association (WCHA), and are based in Houghton, MI. They are three time NCAA Champions, but haven't won a title since 1975. They most recently made an appearance in the 2015 Tournament, losing in the regional semifinals to St. Cloud State.
Misiak, who will be happy to be back in his home state for his college hockey, says it's about more than just the sport. "I love the education [Michigan] Tech offers," he said. "It's a great school and they have a great hockey program."
Misiak also credits those around him: "The Bruins have done a lot for me. My coaches and teammates are a big part of this," he said. "[They're] always helping me out and pushing me to be a better player and person every day. The staff is great and I can't thank them enough."
Misiak joins forward Jan Stefka (American International University) and goaltender Jacob Kucharski (Providence College) as Bruins to make college commitments this season.