New Jersey forward Kaplan makes NCAA DI commitment
February 13, 2017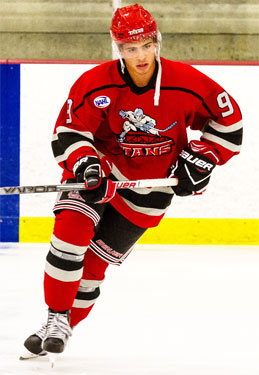 The New Jersey Titans, proud members of the North American Hockey League (NAHL), are pleased to announce that forward Jordan Kaplan has committed to play NCAA Division I Hockey for Sacred Heart University. Kaplan will begin his college career in the fall of 2017.
"I think I first visited Sacred Heart about a year and a half ago, so it's been a long process. I have just been working really hard, trying to focus on the little things and my teammates and coaches here at the Titans have helped to challenge me and make me better every day," said Kaplan.
The 19-year old forward out of Bridgewater, New Jersey, has had himself a great season with the Titans thus far. Kaplan has 35 points on the season, ranking second on the team.
"It's a nice feeling to finally have an idea of what my hockey future will look like, and feels like some weight off is of my shoulders. The coaches at sacred heart expect me to compete every day, develop my game, and bring what offense I can throughout my time there, and I am honored to have that opportunity," he added.
Sacred Heart competes in the Atlantic Hockey Association and is coached by C.J. Marottolo, who is currently in his eighth season as head coach of the program.
"We are so proud of Jordan and happy for the Kaplan family. Jordan's goal for his first year in the NAHL was to solidify a college commitment. Jordan has worked hard all season long and has really grown, developed and matured throughout the season. He has been a consistent producer for us on the ice and has been a good teammate in the dressing room throughout. Jordan has been a key piece for our hockey club since day one and we look forward to having him continue to lead us into the Robertson Cup playoffs," said Head Coach Craig Doremus.
"Obviously we are thrilled Jordan will get to play college hockey in the future with two other current Titans as well. I know Jordan's college coaches are excited to add him to their club next season. We wish Jordan and his family nothing but the best of luck in the future and we are proud to have them as members of our Titans' family."
Kaplan is the third Titan player to commit to an NCAA school, coming only a week after his fellow teammate Oskar Stromberg's commitment to American International College. Kaplan will also be joining his current Titans teammates, Nick Boyagian and Todd Goehring, at Sacred Heart University.
The New Jersey Titans would like to congratulate Jordan and his family on being rewarded for all the hard work that Jordan has devoted to get him to this point.