Odessa forward MacKellar makes NCAA commitment
February 10, 2017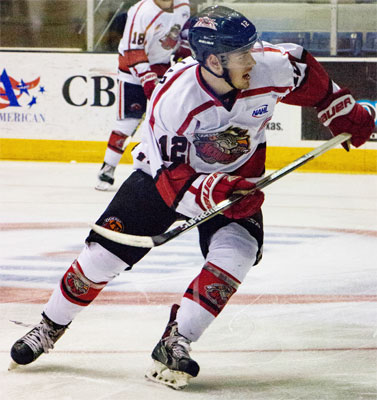 By Cody Lefkowitz, Odessa Jackalopes
The Odessa Jackalopes of the North American Hockey League (NAHL) are proud to announce that captain, Ryan MacKellar, has committed to play NCAA hockey for University of Wisconsin-Stevens Point, beginning in the 2017-2018 season. UW – Stevens Point is a Division III hockey program, and members of the Wisconsin Intercollegiate Athletic Conference.
"When it came down to choosing from my options, I felt like Stevens Point offers me the best experience to play college hockey," exclaims MacKellar. "It's a winning program. After talking with lots of college players, they talk about how it's just like playing for a division I program. It seems to fit me the best, and I hope to thrive."
MacKellar, 20, is having his best season to date despite injuries. Ryan has 11 points in 31 games, but his six goals are the most in his junior hockey career. MacKellar broke his hand earlier in the season while blocking a shot against the Shreveport Mudbugs, sidelining him for over a month. More recently, MacKellar went down with an upper body injury against the Topeka Roadrunners, benching him for another four weeks.
The Indianapolis, IN native came to the Jackalopes when he was 17 years old. Before coming to the Odessa, Ryan played three years for the Indiana Jr. Ice. MacKellar participated at the 2014 Jacks main camp and made the team from there.
"The honest reason is they're the only team that gave me a shot to play junior hockey," reminisces MacKellar. "But now that I've been here for three years, there's no place I would have rather played my junior hockey career".
Since the camp, MacKellar has been a vital part of the team. Sticking with the Jackalopes through the rebuilding years.
Standing at 5-foot 10-inches, weighing 195 pounds, MacKellar has been an iron man before this season, missing only 9 games in his first two seasons. His leadership on and off the ice is something that cannot be replicated easily, earning himself the honor of captain for this season.
"He [Ryan] is a quality individual on and off ice," brags head coach, Greg Gatto. "He plays hard, and practices harder practice everyday. Macker does the right things. He's exactly what you want in your leader."
Ryan will be the fifth Jackalope to enter UW-Stevens Point in the past 5 years, and the second to commit in the past two days. MacKellar will join Zach Zech in getting to play alongside Brennan Miller and Andrew McLean next season. Lawrence Cornellier is also in his final season donning the Pointers' purple and gold.