February 2, 2017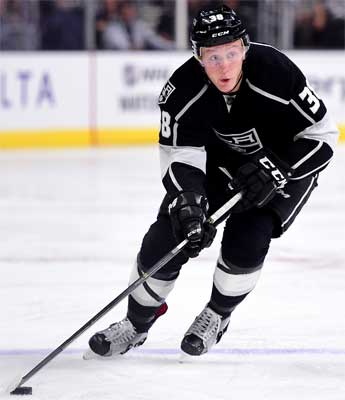 Atlantic Hockey Goalie of the Month: Charles Williams, Canisius (Owatonna Express)
Charles Williams had an impressive month of January, going 7-1-1 and 7-0-1 in Atlantic Hockey games to help Canisius move from 5th to 1st in the AHC standings. He posted a 1.44 GAA in over 543 minutes in net and a 0.958 save percentage on 306 shots faced. He vaulted himself to the top of the national leaderboard in save percentage, 0.945 on the season, and sixth in GAA at 1.88. He allowed no more than two goals in any game during the month and averaged just under 33 saves per game. His only loss of the month, a 2-1 decision, came against then-No. 16 St. Lawrence at the beginning of the month (Jan. 7). Williams stopped 33 shots against the Saints, one of his five 30-plus save performances of the month. He also had a pair of 40-save efforts, coming in consecutive games against then-conference leading Air Force (46 saves) and RIT (45). Williams finished the month on an eight-game unbeaten streak and a six-game winning streak.
ECAC Player of the Week: Alex Jasiek, Dartmouth (Austin Bruins)
A St. Louis native, Jasiek earned his recognition thanks to a two-goal, three-point effort in the Big Green's comeback win at No. 14 Cornell on Saturday night in Ithaca. Jasiek scored a pair of power-play goals just 62 seconds apart more than halfway through the third period against the Big Red, tying the game initially and then putting the visitors on top for the first time all night with the eventual game winner. It was the first two-goal game of Jasiek's career, while he also set a new career high for points in a game as his second-period assist on Cam Roth's power-play marker gave him three points. In all, Jasiek was on the ice for all of Dartmouth's four goals as the team won its fourth straight game at Lynah Rink, one of the toughest environments for a visiting team in college hockey.
Hockey East Defensive Player of the Week: Collin Delia, Merrimack (Amarillo Bulls)
Delia (Rancho Cucamonga, Calif.) In two starts, Delia allowed only two goals against No. 1 Boston University this week, helping the Warriors sweep the Terriers for the first time in school history. Delia turned away 67-of-69 shots, including 37 in Friday's road win. Delia completed the week with a .971 save percentage, and only 1.00 goals per game.
WCHA Offensive Player of the Week: Reid Sturos, Michigan Tech (Alexandria Blizzard)
With Michigan Tech looking to close the gap in the WCHA standings, Sturos tied for the league lead with two goals and three points, helping the Huskies to a five-point road weekend at Alabama Huntsville. The senior from Brighton, Mich. led the country last week with two short-handed goals, both scored during Tech's 5-2, series-opening victory. His first shorty of the night came at 19:25 of the second period and stood as the game-winner, while his empty-netter sealed the win. Saturday night, the Huskies trailed, 4-3, with just 11 seconds remaining in regulation, until Sturos fed Jake Lucchini for the tying strike (Tech would go on to capture the extra league point with a shootout win). One of Michigan Tech's assistant captains, Sturos finished the weekend with eight shots on goal and a +2 rating. This is Sturos' second WCHA weekly award of the 2016-17 season and fifth career honor, including three Rookie of the Week accolades.
WCHA Defensive Player of the Week: Daniel Brickley, Minnesota State (Topeka RoadRunners)
Brickley was a factor on both ends of the ice, tallying a goal and an assist, and tying for the NCAA lead with nine blocked shots, as Minnesota State earned five points against visiting Lake Superior State. The sophomore from Sandy, Utah set a career high with six blocks in the Mavericks' 4-2, series-opening win Friday. While he also recorded three blocks Saturday, Brickley had a hand in both Minnesota State goals as the Mavs rallied from a two-goal, third-period deficit to earn a 2-2 tie (and eventual extra point in the 3-on-3 overtime). The defenseman picked up the primary assist on MSU's first goal and then tied the contest with his own marker with 9:42 remaining. Brickley, who is the top-scoring blue-liner in the WCHA (tied for eighth nationally) with 22 points, finished the weekend with four shots on goal and a +2 rating. This is Brickley's first career WCHA weekly award.
WCHA Rookie of the Week: Parker Tuomie, Minnesota State (Wenatchee Wild)
Tuomie is credited with just one official goal on the weekend, but the rookie played an integral role in Minnesota State's five-point league weekend against visiting Lake Superior State. The freshman from Bremerhaven, Germany tallied his first collegiate game-winning goal in the Mavericks' 4-2, series-opening win Friday, as he snapped a 2-2 tie 3:07 into the third period. Saturday evening, his goal at the 3:52 mark of the 3-on-3 overtime period gave Minnesota State the extra league point – and pushed the Mavericks into sole possession of third place in the WCHA standings. This is the second WCHA weekly award of Tuomie's freshman season.
SPHL Player of the Month: Berkley Scott, Knoxville (Coulee Region Chill/Alaska Avalanche)
The Southern Professional Hockey League (SPHL) today announced Berkley Scott of the Knoxville Ice Bears is the Bauer Player of the Month for January. In 10 games, the Anoka, MN native scored seven goals, including four game-winners, and added nine assists in leading the Ice Bears to a 6-3-1 record for the month as Knoxville moved to within three points of second place in the SPHL standings. Scott recorded six multi-point games in January, including five consecutive, highlighted by a two-goal, two-assist performance in a 5-4 win over Huntsville on January 15. Scott also scored the game-winning goal in three consecutive Knoxville victories from January 14-21. Scott currently leads the SPHL with six game-winning goals and is third in both points (31) and assists (20 - tied). He also had 11-game assist and point streaks from December 16-January 15, both longest (or tied for longest) in the SPHL this season. Scott recorded 15 assists and 23 points during that time.
Former NAHL and Alexandria Blizzard defenseman Paul LaDue has earned his first NHL call up with the Los Angeles Kings. LaDue, who was an NAHL All-Rookie 2nd Team member during the 2010-11 season, has six goals, 18 points, an even rating and 76 shots on goal in 36 games with AHL-Ontario. The right-handed defenseman was selected in the sixth round in 2012. LaDue, who signed a one-year entry-level contract in April, 2016, turned heads with a highly pronounced preseason with the parent club this past fall.