Wichita Falls forward Walker makes NCAA DI commitment
December 12, 2016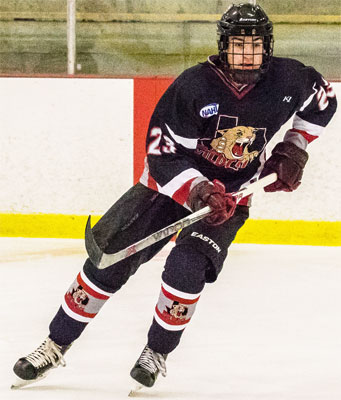 By Alex von Keudell, Wichita Falls Wildcats
The Wichita Falls Wildcats, proud members of the NAHL, are pleased to announce that forward C.J. Walker has committed to play NCAA Division I NCAA Hockey at Minnesota State University of the Western Collegiate Hockey Association. He will begin his college hockey career at the start of the 2019-2020 season.
"Minnesota State has shown interest since the NAHL Showcase. They were the first team to talk with me after the Showcase and they've been in contact ever since," Walker said. "Two weeks ago in Corpus, the head coach (Mike Hastings) flew all the way down from Mankato the day after a game to talk to me."
At age 17, Walker is the youngest player on the team and became the third Wildcat in a week to make his commitment. While it is said the young star had a number of Division I options, the decision was as clear as day for Walker to make.
"Coach Nelson thought it was a great fit for me. My family and old coaches did, as well. I loved the campus," said Walker. "Most importantly, Coach Hastings made clear to me that I'd be an impact player right away. I knew it was the right choice."
The Boise, Idaho native has taken his game to new heights in the last month. In his last 13 games, he's had five goals, ten assists for 15 points. He's solidified his role with the team and is becoming a budding superstar with the Wildcats. The tools he put on display at the Wichita Falls main camp in the offseason are coming to fruition, and Head Coach Josh Nelson has taken notice.
"CJ is very deserving of this opportunity. From a coaching perspective, he's as easy to work with as it gets," said Nelson. "From his compete level to his pure love of the game. I fully expect him to go into Mankato and flourish immediately."
Walker provides the Wildcats with a unique blend of grit and skill. He willingly goes to the dirty areas and gets involved in puck battles. His hand-eye coordination and net-front presence is second to none, and his emergence has been a big reason the Wildcats are one of the hottest teams in the NAHL at the moment.