NAHL family mourns the loss of Omaha coach Shayne Sanborn
December 12, 2016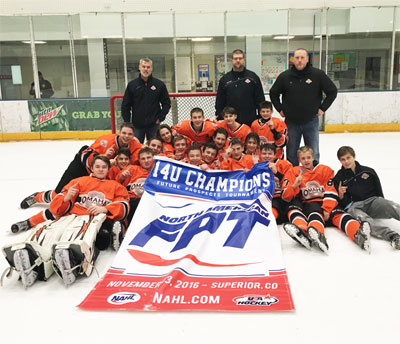 The North American Hockey League (NAHL) along with the North American Prospects Hockey League (NAPHL) is asking for everyone's thoughts and prayers for one of our members in the NAPHL, the Omaha AAA Hockey Club.
Omaha 14U assistant coach Shayne Sanborn died tragically in a car accident on his way to coaching his son Tyler Sanborn's14-year-old hockey team in a tournament in Chicago.
As a veteran, Shayne dedicated his life to our country. As a coach, Shayne dedicated his life to the development and mentoring of children. He was more than a coach he was a father figure and a friend to those children that he guided. But what Shayne was truly great at was being a Dad and a Family Man.
The Omaha 14U team is lead by David Wilkie, also the coach of Omaha's 16U and 18U teams in the NAPHL. Most recently, the Omaha 14U team had competed in both the November and December NAHL Future Prospects Tournaments as part of NAPHL events in Colorado and Minnesota with Shayne assisting behind the bench. The Omaha 14U captured the title in Colorado.
Shane had recently become engaged to Molly Howell on May 17th of this year and had planned to have an official wedding as soon as possible. They combined their families and had just designed and built a beautiful new house, living in it for less than 90 days. They had many dreams of living happily ever after. The beautiful new home was decorated for their first family Christmas together.
Fourteen-year-old Haden Doggett, 47-year-old Kim Doggett, 50-year-old Daniel Doggett, 14-year-old Tyler Sanborn, 14-year-old Haden Rast, 43-year-old Toby Steckler, 43-year-old Pam Steckler and 10-year-old Mason Steckler were injured in the wrecks. All three 14-year-olds are members of Omaha's 14U team.
On Sunday, the Omaha AAA Hockey Club released the statement: "Omaha AAA Hockey would like to truly thank the entire hockey community for their outpouring of support, thoughts and prayers in this tragedy. The hockey world is a small and special place to be. Shayne Sanborn is a huge loss and he will be greatly missed. We still have two 14U players and two parents recovering in hospitals from very severe injuries suffered in yesterday's horrific crash. We ask that your thoughts and prayers are with the Sanborn, Doggett and Rast families for a quick recovery and healing process. Thank you again for everyone's support. It means everything #orangefamily #orangebrothers #orangestrength"