Brown Bears complete three-game sweep on Sunday
November 28, 2016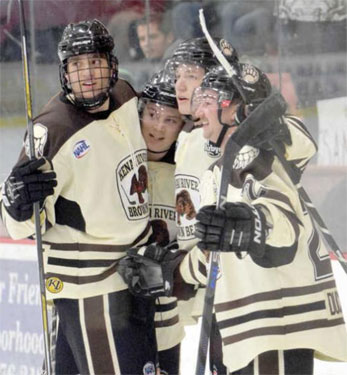 Fairbanks 2 @ Kenai River 6 – The Kenai River Brown Bears ran their winning streak to three straight games with another win over the Fairbanks Ice Dogs on Sunday by a score of 6-2. The win completed a three-game weekend home sweep of the Ice Dogs, who lost their 11th straight game with the loss.
The Brown Bears got things started less than a minute into the 1st period as David Kaplan lit the lamp just :55 seconds into the game.
The lead swelled to 2-0 with a 2nd period goal from Christopher Lipe. Fairbanks cut into the lead later in the 2nd period with a power play goal from Ryan Kero.
In the 3rd period, the Brown Bears quickly put the game out of reach as Luke Radetic scored back-to-back goals in less than a three minute span to make the score 4-1. The Brown Bears increased the lead to 5-1 with a goal from Anthony Tzeyn. The Ice Dogs got their second goal of the game from Hunter Wendt on the power play, but the Brown Bears added a late empty-net goal from Lucas Carroll to make the final, 6-2.
Despite being outshot 39-22, the Brown Bears got 37 saves from Robbie Goor, who picked up wins in all three games. CJ Boothe was credited with the loss.