Titans edge Rebels in OT in lone game Sunday
November 21, 2016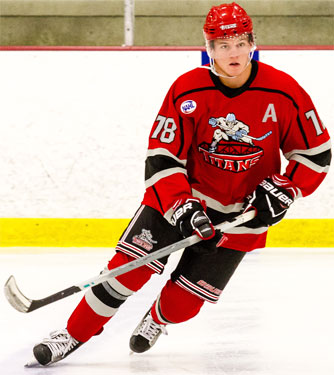 New Jersey 5 @ Aston 4 (OT) – The New Jersey Titans salvaged two points from a three-game weekend series as they beat the Aston Rebels 5-4 in overtime in the lone NAHL game on Sunday.
The loss snapped the six-game winning streak for the Rebels, who still took five of a possible six points in the series and who also hold onto the NAHL's best record at 20-3-1.
The Titans got on the board first in the 1st period on a goal from Anthony Cusanelli. The Rebels responded with two goals in just over a two minute span from Brennan Kapcheck and Andrew Bellant to take a 2-1 lead into the 1st intermission.
The 2nd period was all New Jersey as they scored twice to take a 3-2 lead on goals from Gordie Helmuth and Nick Boyagian.
The Rebels tied the game at 3-3 early in the 3rd period with a goal from Gianluca Esteves. New Jersey regained the lead later in the 3rd period with Cusanelli's second goal of the game. With just over four minutes remaining in regulation, the Rebels tied the game with a goal from defenseman Gvido Jansons.
In the overtime, the Rebels got caught with a tired group on the ice after failing to convert on a power play and Maxim Andreev started a rush up the ice and got the puck to Dylan Healey, who outraced everyone down the ice and fired a shot through the legs of Jack Leavy on the breakaway for the overtime winner.
New Jersey goalie Brandon Bussi made 34 saves in the win, while Leavy made 16 saves in the loss.