November 16, 2016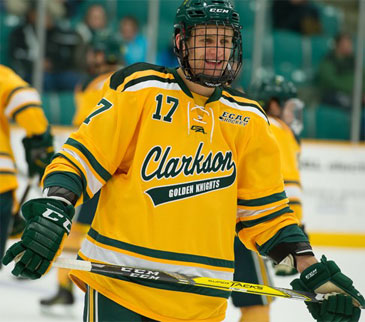 Former NAHL and Corpus Christi IceRays goalie
Anthony Stolarz
skated in practice for the first time this regular season after being recalled by the NHL's Philadelphia Flyers early Tuesday morning - but he been through this before. Although recalled several times in the past, he has never gotten a taste of game action and still awaits his NHL debut. This time around that is likely to change. "Yeah I think you will," said Flyers head coach Dave Hakstol. "I think it's a great opportunity for Anthony to continue what he's done over the last year and couple months down in the American Hockey League. He's proven that he's ready to be here. We'll take it day-by-day and decide when that start is, but we'll have him as a starter at some point in time through this stretch." As for Stolarz, the time he has put in at the American Hockey League has not only prepared him to make that next step, but eager to face the challenge and learn from it. Stolarz is coming off of four consecutive wins early this season in Lehigh Valley in which he has a save percentage of .938. "I think my progression over the last two years has been a lot different than my first year," said Stolarz. "I think in my first year I really struggled a little bit adjusting to the pro level, but I think over the course of the last year and a half Kim [Dillabaugh] and Brady [Robinson] have really helped me improve my game and angle maintenance and rebound control and I want to get that next test. I want to get a shot in the NHL." (
Watch video
)
ECAC Goaltender of the Week: Jake Kielly, Clarkson (Austin Bruins)
After missing last weekend because of illness, Kielly came through with two solid efforts on the road to backstop the Knights to the two victories, extending Clarkson's winning streak to three games. The Eden Prairie, MN, native made 22 saves in the 5-2 win at RPI on Friday and followed with 36 saves on 37 shots in the 3-1 victory over 15th-ranked Union on Saturday. Kielly played a leading role in Clarkson's strong penalty kill against the Dutchmen, allowing Union just one power-play goal on 10 chances.
ECAC Rookie of the Week: Nico Sturm, Clarkson (Austin Bruins/Corpus Christi IceRays)
A native of Augsburg, Germany, Sturm scored his first two career goals to highlight the Knights' offense over the weekend. Sturm, a center, tallied a goal and an assist in the win over the Engineers and opened the scoring in the victory over the Dutchmen.
Hockey East Defensive Player of the Week: Rob Nichols, UConn (Wenatchee Wild)
Rob Nichols (Dallas, Texas) stopped a career-high 46 shots Saturday at No. 14 Ohio State to earn a 3-3 tie. He made 24 saves in the second period alone to help the Huskies take a point from a top-15 team on the road.
WCHA Defensive Player of the Week: Michael Bitzer, Bemidji State (Alexandria Blizzard)
Bitzer continued his stellar play, backstopping now-No. 13 Bemidji State to a five-point weekend on the road at then-No. 11 Minnesota State. The junior from Moorhead, Minn. collected 57 saves during a pair of overtime contests, while his .966 save percentage and 0.95 goals-against average led all WCHA goaltenders who made two starts last weekend. Bitzer turned aside 25-of-26 shots faced through 65 minutes in a 1-1 tie Friday night, setting the stage for BSU to earn an extra league point with a victory in 3-on-3 overtime. He then recorded a 32-save effort over 61:37 of the Beavers' 2-1, overtime win in Saturday's series finale. This is Bitzer's third WCHA weekly award of the 2016-17 season and his 10th career honor, including a pair of Rookie of the Week accolades.
NAHL and Odessa Jackalopes alum
Connor Hellebuyck
made 27 saves on Tuesday night in Winnipeg's 4-0 win over the Chicago Blackhawks (
read
).