Brahmas beat Jackalopes on Thursday, 5-3
November 16, 2016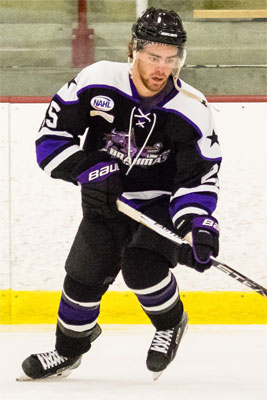 Lone Star 5 @ Odessa 3 – The 1st place Lone Star Brahmas widened their South Division lead to 14 points with a 5-3 win in Odessa on Tuesday night in the lone NAHL game. Carson Kelley had a goal and two assists in the win.
The Brahmas opened up a 2-0 lead in the 1st period with goals :14 seconds apart from Hunter Stanley and Drake Glover. Both goals came off initial rushes to the net with the original shots being stopped by Odessa goalie Jonny Hogue.
Odessa tried to make a game of things in the 2nd period with two goals, both from Zach Heintz, but a goal in the middle of the Jacks goals from David Marabella kept the Brahmas ahead by one goals after two periods, 3-2.
In the 3rd period, the Brahmas pushed the lead to 4-2 on a nice backhand goal from Justin Addamo, his 6th of the season. Odessa kept the pressure on, cutting the lead to 4-3 with a goal midway through the 3rd period from Chris Donaldson, but an empty-net goal from Kelley secured the 5-3 win.
Erik Gordon made 27 saves in the win, while Jon Flakne, who came in relief of Hogue early in the 2nd period was credited with the loss, making 8 saves, while Hogue made 14 saves.