Minotauros break in new Pepsi Rink
November 11, 2016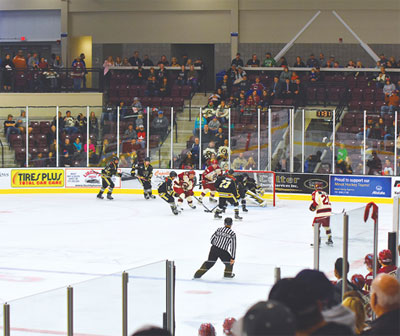 By Garrick Hodge, Minot Daily News
Minot Minotauros players didn't need any pre-game pep talk to get excited about Thursday's game.
The Tauros were hosting rival Bismarck in the inaugural NAHL game of the new Pepsi Rink at Maysa Arena, a figurative palace compared to the Eck Rink that had been the home of Minot hockey for years.
"I think this new rink is a huge deal," said Minotauros captain and defenseman Jake Dittel. "Looking at it for the future, this is a great rink. Kids in the town and from all over are going to want to come here to play in this, which is huge for all of the organizations that play here. It's going to be a fun journey every single year from now on."
Several minutes before the puck dropped Thursday, various Minot hockey boosters and community members were part of a ribbon cutting ceremony on display at center ice. Their commitment and dedication to providing the community a rink that cost $10.9 million to build isn't lost on the players.
"The town is expecting a lot more from us after this brand new rink," Minot forward Alex Adams said. "They put in a lot of money, a lot of time and a lot of effort into this, so it's fair to expect a lot of us. When we can get that first win in here, it's going to feel pretty good."
Forward Jack Murphy echoed his teammates' sentiments.
"It's unbelievable," Murphy said. "It's really quite the atmosphere. I think we're just blessed to have the community that we do, especially since they put this on for us."