Bobcats spoil Minot's new rink opener on Thursday
November 10, 2016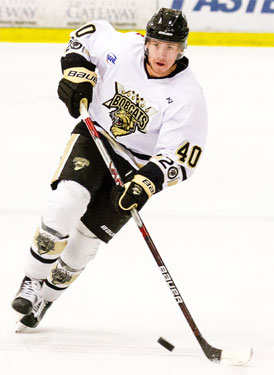 Bismarck 5 @ Minot 4 - In the lone NAHL game on Thursday, the Bismarck Bobcats got two goals from defenseman Kyle Siemers as they spoiled the opening of Minot's new Pepsi Rink at the Maysa Arena in a 5-4 road win.
It was all Bobcats in the 1st period, which included two goals from Siemers in the first seven minutes of the game as both his shots found itself between the legs of Minot goalie Lucas Murray for a 2-0 lead. Just over a minute after Siemers' two goals, Tobias Fladeby added his 9th goal of the season as he cleaned up a rebound on the back door for a 3-0 lead after one period.
However, the Minotauros had comeback ideas in the 2nd period as they scored three times, including goals from Reid Stefanson and Chase Springman in the early stages of the middle stanza to make the score 3-2. Bobcats defenseman Jordan Fralich scored on the power play through traffic to make it 4-2 late in the 2nd period, but before the period was done Stefanson added his second goal of the game to make the score 4-3.
In the 3rd period, the Bobcats eventual game-winning goal came from Jiei Halliday as he potted a rebound from Tristan Ashbrook as they converted on a turnover. Minot cut the lead to back to within one goal as Alex Adams scored his 11th goal on the power play, but the Minotauros could not find the equalizer.
Bismarck goalie Will Ulrich made 29 saves in the win, while Murray took the loss in net for Minot, making 19 saves. Over 1,400 fans attended the first game in the new venue.