Magicians beat Wilderness on Wednesday, 5-3
November 9, 2016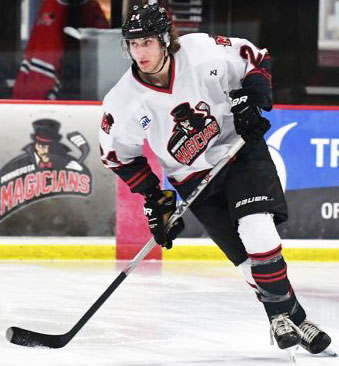 MN Wilderness 3 @ MN Magicians 5 – In the battle of two Minnesota rivals, the Magicians got a five-point game from John Siebenaler and came away with a 5-3 win over the visiting Wilderness.
The game was even at 1-1 after one period after Siebenaler scored for the Magicians and Luke Dow answered for the Wilderness.
The two teams each scored again in the 2nd period as Thomas Altounian scored for the Magicians and Pavel Mikhasenok answering for the Wilderness.
In the 3rd period, the Wilderness had briefly taken a 3-2 lead on a goal from Alexander Esbjors, but the Magicians then rattled of three straight goals later in the 3rd period. David Kirkendall tied the game at 3-3. Will Hammer then added the game-winning goal with less than five minutes remaining in the game and Mitchel Slattery added an empty-net goal.
Ivan Prosvetov made 29 saves in the win, while Trevor Micucci made 33 saves in the loss. The win moved the Magicians to within one point of 1st place Janesville.