Odessa defenseman Zech makes NCAA DI commitment
November 3, 2016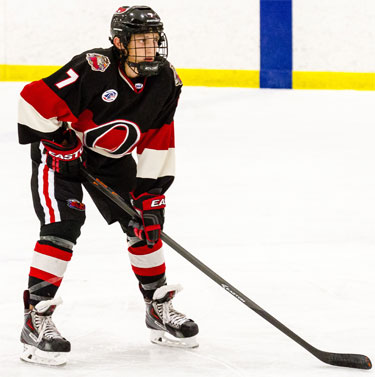 The Odessa Jackalopes of the North American Hockey League (NAHL) are proud to announce that defenseman Cooper Zech has committed to play NCAA Division I hockey for the Ferris State University Bulldogs beginning in the 2018-2019 season. Ferris State is Division I hockey program, members of the Western Collegiate Hockey Association.
"Ferris State University is the perfect fit for me," claimed Cooper. "It is a good sized school offering majors that I am interested in, the hockey team is always good, and I get to stay close to home so my parents can watch me play."
Zech, 17, originally committed elsewhere last season, but had a change of heart and is now going to be the first Jackalope to dawn the crimson and gold. Zech has had a great start to the season, leading the team with 16 points and 14 assists.
The South Lyon, MI native came to the Jackalopes when he was 16 years old. Before coming to the Jackalopes, Cooper played for the Victory Honda Bantam Major AAA, where he had 11 points in 29 games, and the Victory Honda U18 team. Cooper had 15 points in 31 games for the U18 midget team.
Making the jump to the NAHL last season, Cooper jumped into a good defense and took control. Cooper tallied eight goals and 17 assists in his first season, earning him honors on the All-Rookie 1st Team. Zech's accomplishment at such a young at was the first for a Jack to earn such an honor.
"I thought we invited a stick boy, or a little brother as a fill-in, but as camp went on, nobody hit him, they couldn't hit him," said head coach, Grag Gatto. "Guys were getting frustrated, they're taking runs at him and nobody could catch him. He would be a hard guy to play against because he would drive you crazy at how good he is."
This year, Cooper heads all NAHL players in assists and has earned himself the team lead in ice time. Cooper is a valuable asset in every aspect, and is a first-line defenseman in any situation throughout the game.
Cooper's style of play is quick and agile. Standing at only 5-foot 7-inches, and weighin in at 155 pounds, Cooper isn't the stereotypical defenseman. He uses his quick feet and quick thinking abilities to beat the other team down the ice, usually playing the point man on most plays.
When Cooper joined the team last season, he didn't only join the Jackalopes family, but his own family as well. Cooper joined older brother, Zach Zech, on the Jackalopes team for the first siblings to play in a Jackalopes uniform together.
"Playing with my brother has been a blessing and a dream," Zach reminisced. "From the time we were little kids, we would dream of playing on the same team. I remember playing mini sticks in our living room pretending to be on the same line and scoring goals. 'Goal by Zech, assisted by Zech'".
Cooper is the first Jackalope to make a commitment this season, but don't be surprised if this opens the doors for other players on the team.