Fairbanks forward Anderson makes NCAA commitment
July 5, 2016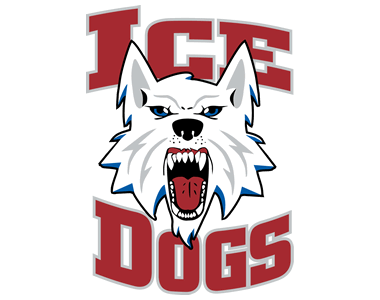 By Tim O'Donnell, News-Miner
Fairbanks Ice Dogs and NAHL forward Adam Anderson spent the two seasons playing more than 2,000 miles away from his family with the Fairbanks Ice Dogs.
Next season, he'll be playing college hockey less than 40 miles from his sister. Anderson committed to play NCAA Division III hockey for Trinity College in Hartford, Connecticut.
Anderson's sister, Laura, will also be starting her freshman season at Yale University in New Haven, Connecticut, in the fall.
"Yale is only 45 minutes south," Anderson said by cellphone on Thursday afternoon. "A quick easy drive from Trinity in Hartford."
"It makes it pretty convenient with me being so far away in Alaska. Now I'll be close and they can see us in on swoop," Anderson said of his parents visiting.
Anderson, a forward from Lino Lakes, Minnesota, was one of three Ice Dogs who recently committed to Division III schools. Mitchell Baumann and Clay Cross both committed to play at Marian University in Fond du Lac, Wisconsin.
When Anderson arrives in Hartford, he'll be reunited with former Ice Dogs assistant coach Paul Kirtland, who is now an assistant coach for the Bantams. Anderson said Kirtland was the one who got him interested in Trinity and one of the main reasons he chose the school.
"He's obviously a phenomal coach," Anderson said. "He also knows me as a human being as well and he thought it would be a good fit for me on a personal level with academics and the lifestyle that Trinity offered."
Anderson was also drawn to the Bantams, who are members of the New England Small College Athletic Conference, by their history of winning. The Bantams won the Division III national title in 2015 and were the NESCAC champions last season.
The Bantams went 21-6-1 overall last season and 14-4-0 in conference.
Last season with the Ice Dogs, Anderson scored one goal with 13 assists for 14 points in 33 regular season games after returning from a knee injury. He added one goal and two assists in 12 playoff games as the Ice Dogs won the North American Hockey League's Robertson Cup National Championship.
"He was tremendous for us during the playoffs," Ice Dogs head coach Trevor Stewart said. "It's unfortunate that we didn't get to see him throughout the course of the entire season because of his injury. That was a nice shot in the arm he gave us. It created a ton of depth for us."
Anderson appeared in 55 regular season game he's first year with the Ice Dogs, scoring seven goals with nine assists for 16 points.
"He's such a smart kid. Not many people can go to Trinity College just because the academic standards are so high," Stewart said. "He's going to go in and he should be healthy and should be able to make an impact for their hockey club immediately."
Anderson said he is close to being 100 percent healthy but he picked up an ankle injury during the season that he is rehabbing along with his knee.
"Throughout the surgery process they told me, I could be playing in six months but I wouldn't be 100 percent until 12-18 months," Anderson said. "I do feel like I've gotten stronger since i got home."
Anderson, who plans on majoring in economics, said he visited the campus last fall while he was out of the Ice Dogs lineup while rehabbing his knee.
"It's right in the city but once you step on campus, you truly feel like your in a different place," Anderson said. "The rink is right across the block so its practically right on campus. You don't have to drive to a distant location for the rink."